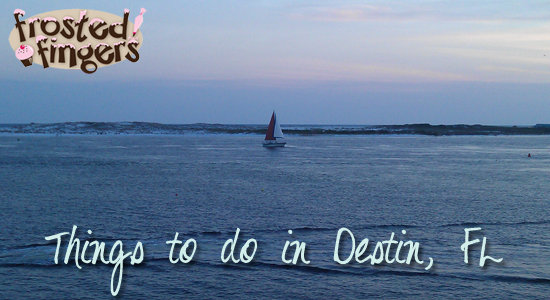 If you've been around my blog this week, you'll see that I'm talking about my trip to Destin, FL with Brandcation. I've already told you about where I stayed at the Emerald Grande and yesterday I told you about all the food I ate. Today I'm going to tell you about the things we did while we were there. This Brandcation was a little bit different than the others. Usually we are jam packed with activities. This time we were supposed to have more activities, but unfortunately the weather was not always our friend on this trip. I'll tell you not only about what we did, but mention things that we were supposed to do in case you'd like to try them out on your trip.
Things we did: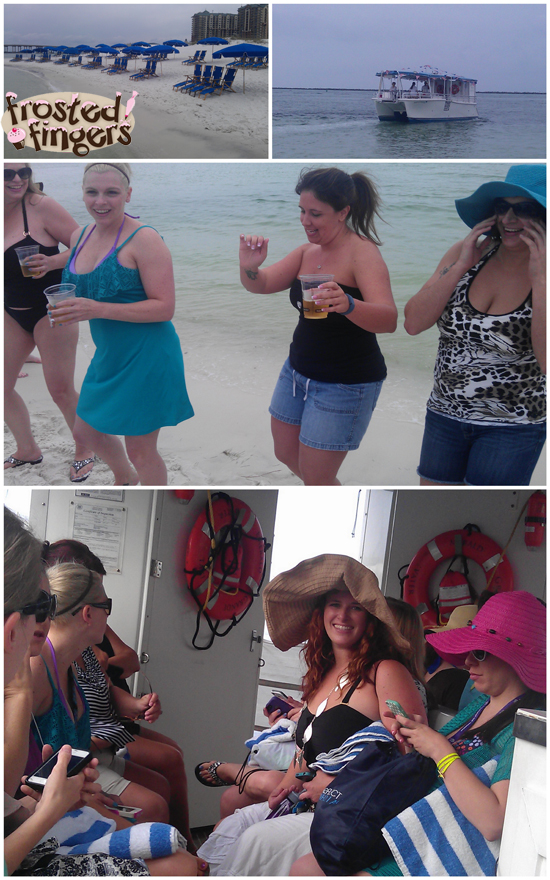 We took a shuttle from the Emerald Grande over to Norriego Point where we spent the morning in the cove: splashing, dancing, and chatting. I had an urge to make a sand castle but never did make one.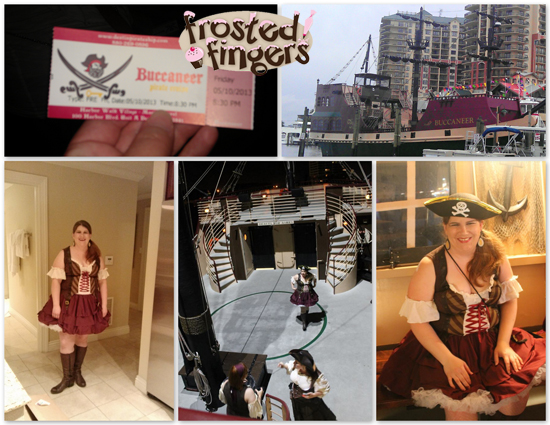 We went on a pirate cruise on the Buccaneer Pirate Cruise. We went on the 21+ cruise and it was pretty raunchy, just an FYI if you're not into that kind of thing. There is a ton of adult humor on board. I love that they do ice breakers to get people loosened up. One of the games was that we all had to stand in a circle holding hands and pass a hula hoop from one person to the next without breaking the chain. We definitely had a great time on the ship.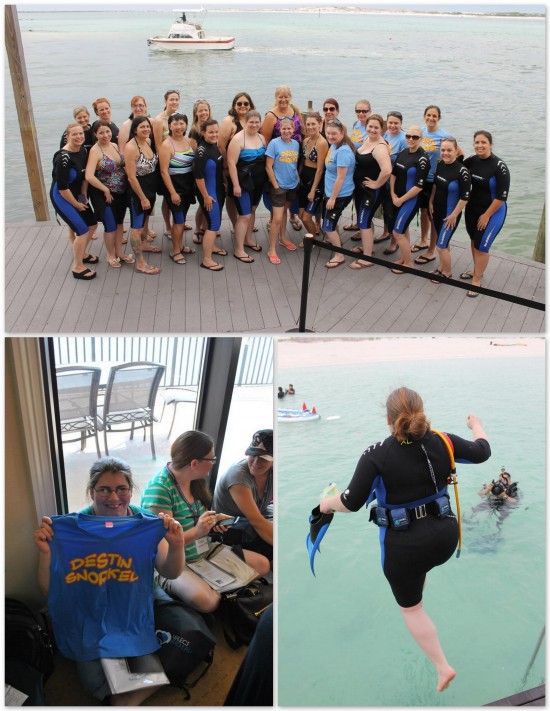 We visited Destin Snorkel where we had the chance to snorkel or snuba. You may be thinking that I totally misspelled that word, but snuba is an actual activity! I'd never heard of it before my trip. It's a combination of snorkeling and scuba diving.
Snuba® divers breathe underwater by means of a 20 foot air line which is connected to a standard scuba tank. The tank is mounted on a raft on the surface that follows your every movement. The airline allows you to tour underwater near the bottom, at mid-water or on the surface depending on your level of comfort. There is no heavy diving gear. Every Snuba tour is guided by a diving professional. Your guide will familiarize you with the Snuba equipment you will be using and briefly describe what you can expect in the water.
I was super excited to snuba because one of the things I've always wanted to do was go to the Great Barrier Reef and scuba dive. I thought this would give me a great idea as to how it will go. Unfortunately I didn't have the best experience for me. It started when I jumped off the boat; I had forgotten I was jumping into salt water and it went up my nose and down my throat. Yuck! I also had to use the washroom badly… believe me, I tried to go in the water, my body was having none of that. Then we went to practice breathing under water and for some reason my mouth wasn't sealing right around the mouthpiece and I was bringing water in when I'd breathe. The guide checked me and didn't see anything. I gave it a try anyway and once I started swimming I got tangled up in the tubing and someone swam directly under me, freaking me out. At that point I just abandoned ship! The guide was absolutely awesome, though! He came to the surface with me and tried to talk me into trying again. He told me I could just snorkel the area or use the breathing piece and swim on top, but I'd just had enough. With the weather and everything else against me I just decided I was done and would try again another time. I really would love to give it another try, though. I saw how much fun my friends had and it depressed me even more.
While this wasn't an originally planned event, we had a blast at Destin Laser Tag. Because the weather wasn't cooperating, Trisha came up with a plan B of going to play Laser Tag and so about half of our group piled into a few cars and took a 10 minute ride to play two games of laser tag. I got some major activity in those two games. I forgot how much fun laser tag was! You can see my scores up above. We had a very competitive group!
Things we were supposed to do:
We were supposed to have the chance to paddle board at Kitty Hawk Kites, but unfortunately the weather was not our friend at that point. I would definitely like to check it out next time. It looks like a great full body workout!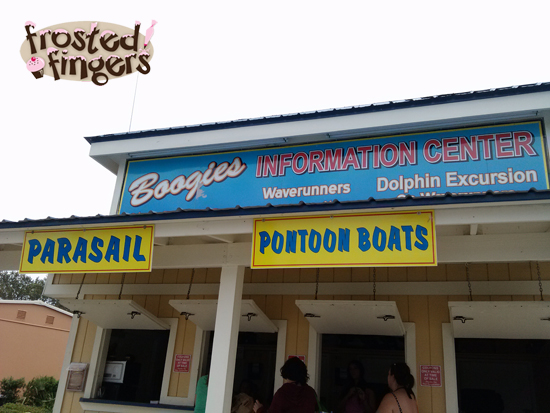 We also had the chance to check out jet skis from Boogie's Water Sports. (Warning, the site has music when you open it.) Be sure to remember a credit or debit card and your license when you go down to rent one, but keep in mind they do not have lockers to keep your stuff.
I had an excellent time with all of our activities. While it was not as "active" as usual Brandcations, it was definitely nice to just relax a little more. I can't wait to find out what the next Brandcation will hold for us!
Note: Most expenses were taken care of by sponsors and other expenses that weren't covered, I covered myself. All thoughts and opinions are my own.