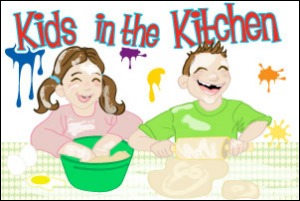 So today I generally share what I did with my kids in the kitchen this week. Well, it just didn't happen this week, not at all. I was going to have the kids help with spaghetti and meatballs last night for dinner, but right around 2pm Little Man came in crying that his ear hurt. I ended up taking the kids out of school early and took Little Man to the Urgent Care since his doc didn't have any more office hours yesterday. One and a half hours later he we left with 10 days of antibiotics for infections in both ears. We didn't get out of Walgreens til 5pm and he was still crying so I couldn't bring myself to go home  and cook. We ended up getting Burger King for Buddy because he's been begging for months and McDonald's for the others. So unfortunately I don't have anything to share from our kitchen this week but I have some plans for next week! In the meantime I'd still love to hear what you did this week.
What did you and your kids do for dinner this week? Share photos, stories or recipes that include your #kidsinthekitchen. I would love for you to join me and my co-hosts, Melinda at Look What Mom Found and Sara at Sensibly Sara, each week linking up a post, new or old, that feature the theme Kids in the Kitchen. It doesn't matter what you are doing as long as you are doing it together and enjoying it and learning something.
preparing healthy snacks
having a tea party
counting skills with m&ms
pouring from measuring cups
discovering a local restaurant that your kids love
creating new family friendly recipes
Don't have a blog, then share a photo you uploaded to Facebook, Instagram or Twitter.  Share whatever you have, we want to see it.
Linky Rules
1.  Link up only your kid friendly recipes, stories, pictures or cooking lessons here.(No Etsy stores or giveaways please). 2.  Link directly to a specific post, update or tweet not your homepage. 3. Please add a Kids in the Kitchen button or link on your site or blog post or share through social media so readers know you are participating.
banner size  http://lookwhatmomfound.com/wp-content/uploads/2013/01/kids-in-the-kitchen-banner.jpg button size  http://lookwhatmomfound.com/wp-content/uploads/2013/01/kids-in-the-kitchen-button.jpg
4.  Click through and comment, pin, like, tweet or share with other participants.  We love to share inspiration and ideas with each other, don't link and run. 5. Follow the hosts of this feature, Paula at Frosted Fingers, Sara at Sensibly Sara and  Melinda at LookWhatMomFound…and Dad too I can't wait to see all of the fun food themed ideas, excursions and photos you have to share.