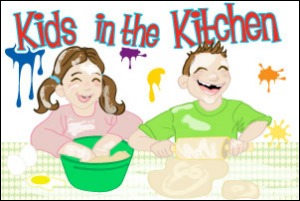 On Wednesday morning Monkey wasn't feeling well but she decided she wanted green eggs and ham instead of the ham and cheese omelette I wanted to make. She also begged to help. I figured I'd let her try cracking the eggs for the first time.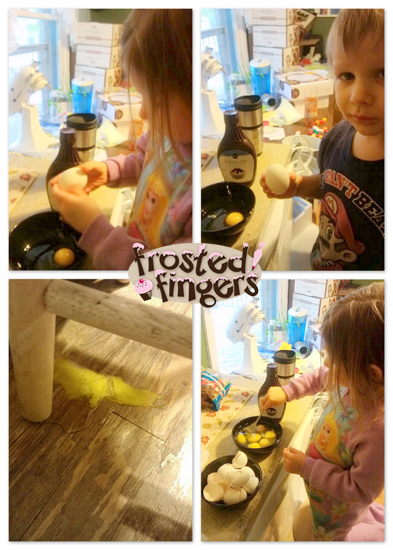 You can see from the picture above that the first egg ended up on the floor. I didn't get mad, I just told her that it's ok and we have all cracked a few eggs the wrong way. I helped her crack the rest and Little Man got to help crack one, too. Another cool experiment with this breakfast was that she got to see how blue and yellow makes green.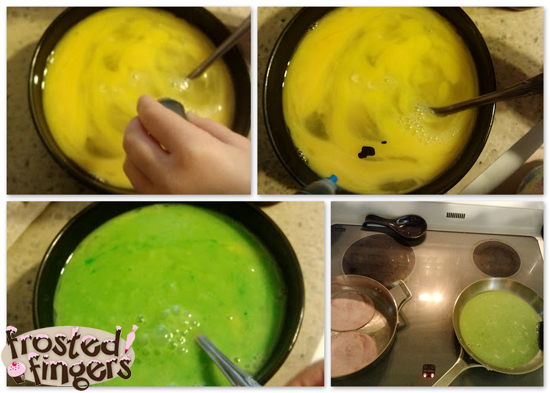 We used 8 eggs and about 5 drops of blue food coloring to get the color that we did. I try not to use a ton of food dyes or buy foods with dyes in them anymore, but we are trying to be a family of moderation and a few drops here or there are ok to us. The kids were excited to have their green eggs and ham.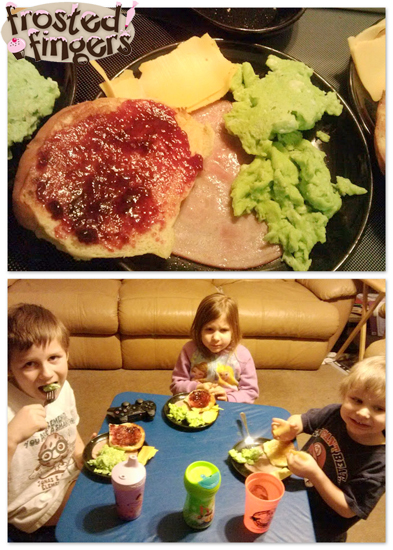 Just ignore Monkey's face, as I said, she was not feeling well. She ate her eggs up with no problem and half of her toast. She didn't even touch the ham. The boys loved the meal that their sister and I made.
What did you and your kids do for dinner this week? Share photos, stories or recipes that include your#kidsinthekitchen. I would love for you to join me and my co-hosts, Melinda at Look What Mom Found and Sara at Sensibly Sara, each week linking up a post, new or old, that feature the theme Kids in the Kitchen. It doesn't matter what you are doing as long as you are doing it together and enjoying it and learning something.
preparing healthy snacks
having a tea party
counting skills with m&ms
pouring from measuring cups
discovering a local restaurant that your kids love
creating new family friendly recipes
Don't have a blog, then share a photo you uploaded to Facebook, Instagram or Twitter.  Share whatever you have, we want to see it.
Linky Rules
1.  Link up only your kid friendly recipes, stories, pictures or cooking lessons here.(No Etsy stores or giveaways please).
2.  Link directly to a specific post, update or tweet not your homepage.
3. Please add a Kids in the Kitchen button or link on your site or blog post or share through social media so readers know you are participating.
banner size 

http://lookwhatmomfound.com/wp-content/uploads/2013/01/kids-in-the-kitchen-banner.jpg

button size 

http://lookwhatmomfound.com/wp-content/uploads/2013/01/kids-in-the-kitchen-button.jpg
4.  Click through and comment, pin, like, tweet or share with other participants.  We love to share inspiration and ideas with each other, don't link and run.
5. Follow the hosts of this feature, Paula at Frosted Fingers, Sara at Sensibly Sara and  Melinda at LookWhatMomFound…and Dad too
I can't wait to see all of the fun food themed ideas, excursions and photos you have to share.