As you may know, I've been to EVERY Brandcation and was totally saddened when Trisha said she may not do another. Brandcation has made me a more outgoing and adventurous person. Imagine my happiness when I found out that Trisha, Lynsey, and Blondie have decided to do a 5th Brandcation in Destin, FL! As soon as they announced that they were going to announce a Brandcation, I told my husband I was going, no matter what. He knows that is the case when one of these events comes up. He knows how much I've come out of my shell since starting these events. I'm going to show you in pictures how much fun I've had on each of the four Brandcations I went to. See, I'm writing this post as a plea to the wonderful women that run these events. This is the first Brandcation that I have not bought my ticket right away. Financially, this trip is not in the cards, but they're doing something they haven't done before, they're opening up a spot for an almuni of the events to get their trip covered except for travel expenses. I'm going to recap each event and tell you how I've come out of my shell with each one.
Brandcation BOBNola (Translation= Bloggers on Bourbon in New Orleans)
That's me in the center between the awesome Tara of Global Resort Homes and Trippin with Tara and Kas of Southern Bella's Ways to Save. I REALLY stepped out of my shell that weekend by 1)Going on a trip that I practically knew no one, to a city I'd never been 2)Deciding to room with two girls I'd never met before and 3)dancing with a bunch of strangers! I fell in love with New Orleans and I so badly want to go back. It was hot and sticky and tons of mosquitoes, but I found that this quiet, shy girl could step out of her box and become independent and have a great time. I had some AWESOME food and made some lifelong friendships. You can read more about that adventure here.
Brandcation Global Getaway (Kissimmee, FL)
That video pretty much says it all! I am terrified of heights, but one of the stipulations of going to Global Getaway was that you had to at least TRY to go ziplining. It was scary at heck at first, but so exhilarating. I loved it and I couldn't wait to go again. This time I wasn't as scared to go on the trip because first of all I lived in the Kissimmee area for 8 years so I was familiar with the area and because I'd gotten the first trip under my belt and knew people this time. I was so totally excited to have Lynsey as a roommate this time. We may have stayed up a bit too late at night talking. 🙂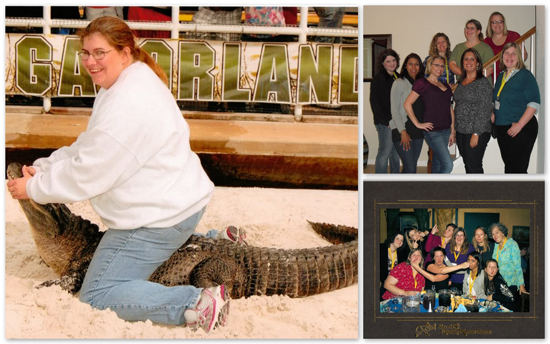 The trip was so much more than ziplining, though. We held a baby gator, gator wrestled, fed gators with no gates between us, watched amazing dinner shows, stayed in an amazing house and all around just had a great time. You can read more about my time on any of these posts.
Brandcation Bloggers Gone Coastal (Pensacola, FL)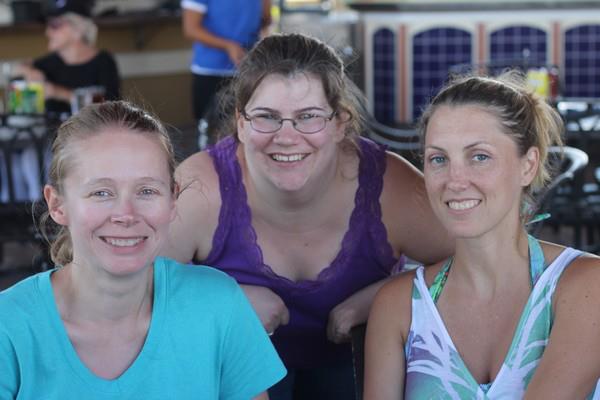 Pensacola was trip number 3 with this crew. This time Kim and I decided to plan our flights together and we had a blast. This was the trip that I felt I made a lifelong friendship with her. We live about an hour away from each other and our kids get along great so it's wonderful! This trip I was more able to step outside of myself and talk to new people better. I've never been one to be able to just talk to people I don't know. I've always been shy. I think a few of these people wouldn't believe that. In Pensacola we opened the trip up with a hilarious scavenger hunt where my team was the Red Ladybugs and we wore wings as we ran all over the property. We got to go stargazing, where we got to see Saturn; what an amazing sight! We went ziplining again, followed by a river tubing ride in which I raced Maryann down the river. We also got to go on a dolphin cruise which I was looking forward to the most because I always wanted to work with dolphins. Seeing them in the wild was a dream come true! Read more of my posts here.
Brandcation Blog Cabin (Pigeon Forge, TN)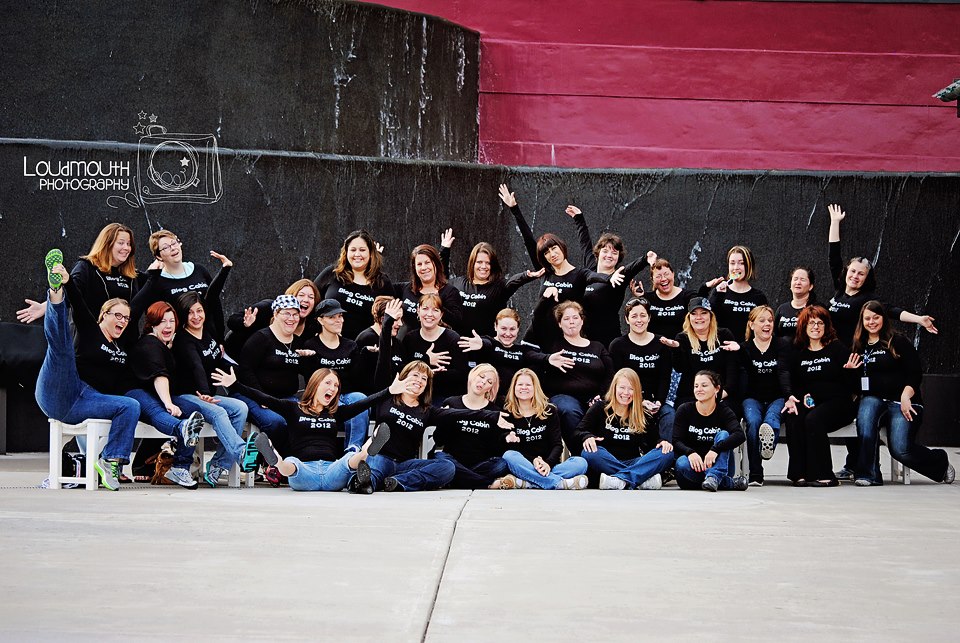 This Brandcation was the best of the four to me. I carpooled with Kim and Theresa and we didn't sleep all night. We had such a good time! I loved everything about this trip: The gorgeous cabin with the amazing view, Dollywood, Dixie Stampede, Lumberjack Feud and of course Climbworks. Climbworks was the third time I'd ziplined, but OMG it was the BEST time! We had amazing guides and we got to zip UPSIDE DOWN! When I told my husband, he said that he never could have pictured me trying something like that. See how much I've grown? I was terrified the first trip of zipping to the point of almost crying and by the 4th trip I am zipping upside down! I had an amazing time getting to know Courtney better this trip and knowing that she's going to be at Destin makes my heart hurt because I want to be there with her! If you want to read more about Blog Cabin, please visit these posts.
To me, Brandcation is more than a trip; it's a chance to meet more like-minded women that I can build lasting friendships with. It's about seeing those women again and catching up as if we've never left each other's sides. It's about learning from them about blogging and relationships. It's about me growing. I NEED to be at Brandcation DESTINation. After spending my morning re-reading my posts and looking at pictures, it makes that need bigger. I hope I am chosen! Thank you for your time reading this!
If you haven't been to a Brandcation, now is the time to sign up! There are only about 12 spots remaining, I believe. You can get your tickets here: It's the DESTINation.