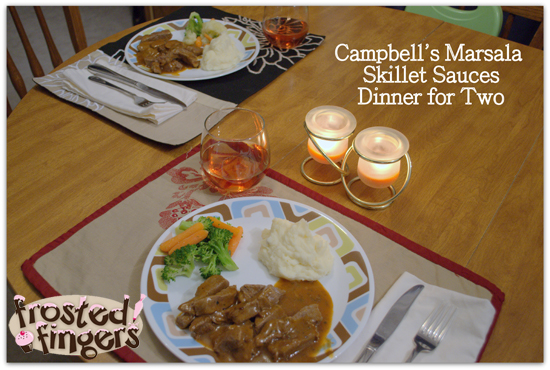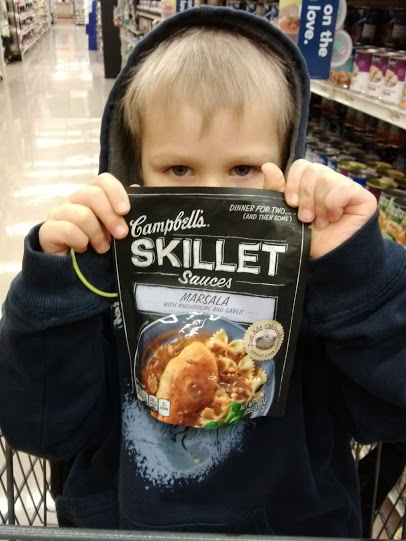 A few days ago, Little Man and I headed over to Jewel to pick up a meal for my husband and I to have a date night after the kids went to bed. You can see more about my shop on my Google + Album. We went out in search of the new Campbell's Skillet Sauces. They have six varieties to choose from: Creamy Chipotle, Fire Roasted Tomato, Toasted Sesame, Marsala, Scampi, and Thai Green Curry. I bought the Fire Roasted Tomato to try at a different date. For this date I decided to go with the Marsala and instead of using the chicken that it recommends, I went with sirloin. The sauces were very easy to find at Jewel. They were in the soup section by all of the other Campbell's products. My favorite meal is sirloin marsala with garlic mashed potatoes at Carrabba's. My goal was to recreate that whole meal and make some crusty bread earlier in the day so that we could have bread and spices, but I just flat out ran out of time. It's ok, though, because this meal was supposed to be made in 15 minutes.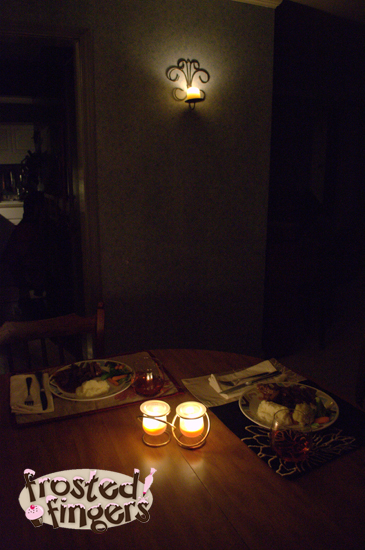 Tuesday night was a busy one. My husband had to go to Cub Scouts Pack Night (which we should have been at as well) and we had to go to Buddy's First Communion meeting at church. I got the kids fed before we headed off in different directions. After my husband left for Scouts I washed the dishes in the sink, cleaned off my desk the dining room table, and set it so that when I got home all I'd have to do is cook and eat.
We got home from the Communion Meeting at around 8:30 and I immediately got the kids into jammies and sent to bed. I started cooking and couldn't believe how fast I was able to pull together dinner for my husband and I. He walked in and was pretty surprised with what we were eating. We had sirloin Marsala from Campbell's Skillet Sauces, garlic mashed potatoes, steamed vegetables, and pink moscato wine. I thought the Marsala sauce was good. My husband really liked it and practically licked his plate clean. It was really nice to have a quiet meal together with no interruptions. We talked about all the things you shouldn't talk about on dates: politics and religion. But it was nice. We had a good time talking, laughing and reconnecting. Who said you need an expensive dinner and sitters to have a nice date? How do you reconnect with your spouse?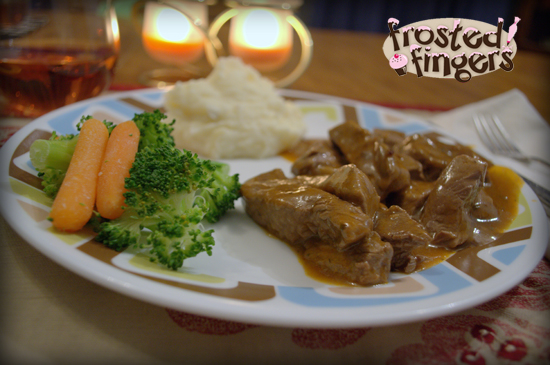 Items needed to recreate this meal:
Olive Oil

2 Sirloin Steaks
Campbell's Marsala Skillet Sauce
Simply Potatoes Garlic Roasted Mashed Potatoes
Steamable vegetables
You should try out Campbell's Skillet Sauces. There is an in-store coupon on the display for the month of January or you can print one out online at Campbell's Sauces Facebook.
Note: I am a member of the Collective Bias®  Social Fabric® Community.  This shop has been compensated as part of a social shopper insights study for Collective Bias®  and Campbell's #cbias #SocialFabric. All opinions are my own.