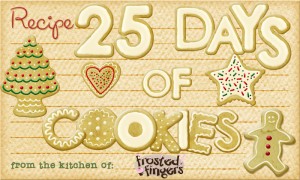 Day 15 of the 25 Days of Christmas. 10 Days until Christmas. Where did this month go? It's hard to write an upbeat post right now seeing the events of yesterday's shooting in CT. I'm hugging my kids and spending the weekend baking with them, enjoying as much of every moment with them as I can. On that note, today I'm sharing a cookie that my kids and I made earlier this week. I've had a hard time coming up with a name for these cookies because they have everything in them! A friend told me to call them Whatchamacallit cookies because they have the same basic ingredients. Lisa said Balls of Fun, Shelley said Pretzel Butt Chocolos, Lisa said Bites of Heaven (and wants me to mail her some), and some non-bloggy friends said: Snack-a-roos, Rolo-ific, Peanut Butter Crunch Delights, and Crunch Chewy Roll Bites. I just decided on Everything Cookies, because it feels like they have everything but the kitchen sink in them! I have found that they taste better after sitting for two days. The flavors have all merged together into a sweet and salty yumminess.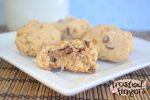 Everything Cookies Recipe
Ingredients
1 1/2

cups

of all purpose flour

1/2

tsp.

of salt

1/4

tsp.

of baking soda

1/2

cup

of butter at room temperature

1/2

cup

of tightly packed light brown sugar

1/3

cup

of granulated sugar

1

egg

beaten

1

tsp

vanilla extract

1/2

cup

mini milk chocolate chips

1/2

cup

peanut butter chips

1/2

cup

broken up pretzel pieces

34

mini rolos
Instructions
In a medium bowl, sift together the flour, baking soda, and salt. Set aside.

In a larger bowl, beat the butter and sugars together on medium speed until light and fluffy (about 2-3 minutes). On low speed, slowly add the beaten egg and vanilla extract. Beat to combine, scrape down the sides of the bowl.

Add the flour mixture and beat just until there are no more streaks of flour. Stir in the chocolate chips, peanut butter chips, and pretzels. Cover and refrigerate for an hour.

Preheat the oven to 350 F. Line baking sheets with parchment paper. Scoop out well rounded tablespoonfuls of the dough and roll around one mini rolo. Leave about 2 inches between each ball. Bake for 10-12 minutes.

Allow the cookies to cool on the baking sheet for a few minutes before removing.
Recipe adapted from Sugar Cooking