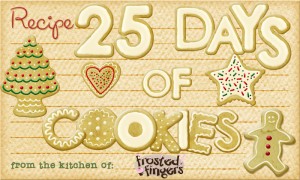 Welcome to Day 11! I woke up with another headache and a to-do list so long I want to crawl back into bed. I don't like days like these! I think today's cookies kind of reflect how I feel today. They didn't turn out right. They tasted good, I just couldn't get my meringue to stiffen up just right. I do plan to try these again when I don't have so many other cookies to make, because I'm determined to make them look pretty.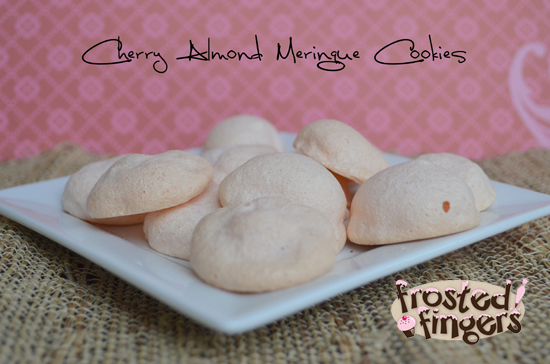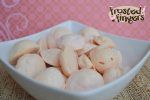 Cherry Almond Meringue Cookies
Ingredients
2

egg whites

1/2

tsp.

vanilla

1/4

tsp.

cream of tartar

1/2

c.

sugar

1/4

tsp.

almond extract

1/4

tsp.

cherry extract

Red food coloring

optional
Instructions
Preheat oven to 300 F.

Place eggs whites in a medium mixing bowl and let sit at room temperature for 30 minutes. (I've found that my kitchen isn't very warm. I should have let mine sit out longer, I think.) Line two large cookie sheets with foil. Set aside.

Add vanilla and cream of tartar to egg whites. Beat with electric mixer on medium to high speed until soft peaks form. Gradually add sugar, 2 tablespoons or so at a time, beating till stiff, glossy peaks form and sugar dissolved.

Quickly beat in the cherry & almond extracts and, if desired, several drops red food coloring to tint the mixture pink.

Using a decorating bag fitted with a large star tip, pipe cookies 1" or so in diameter onto prepared cookie sheets. Bake in a oven for 15 minutes. Turn off oven and let cookies dry in oven with door closed about 30 minutes. Remove from cookie sheets. Store in a tightly covered container in a cool, dry place.
Recipe Adapted from MomSpark