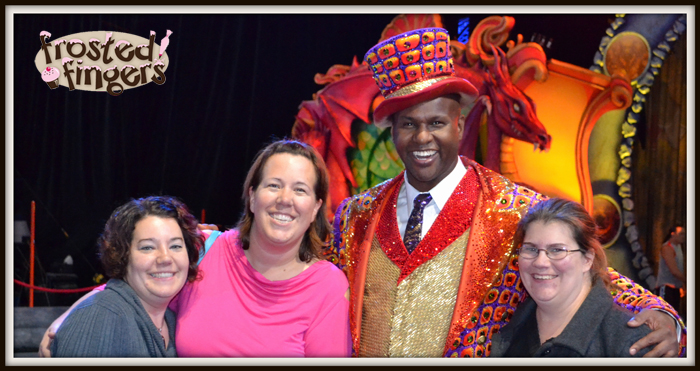 Last week my family and I got to go to the new show Ringling Bros. and Barnum & Bailey® Presents DRAGONS. It is still at the Allstate Arena in Chicago until the 11th and the moves to the United Center from November 14-25. You can save 20% on weekend shows and 40% on weekday shows by using the code "MOM" at Ticketmaster. (Weekday is defined as any show Monday through Thursday or Friday matinee, not including holidays such as the day after Thanksgiving. Discount does not apply to Circus Celebrity, Front Row, or VIP seats. No double discounts. Service charges, handling, and facility fees may apply.) FREE PARKING in all official Allstate Arena and United Center parking lots.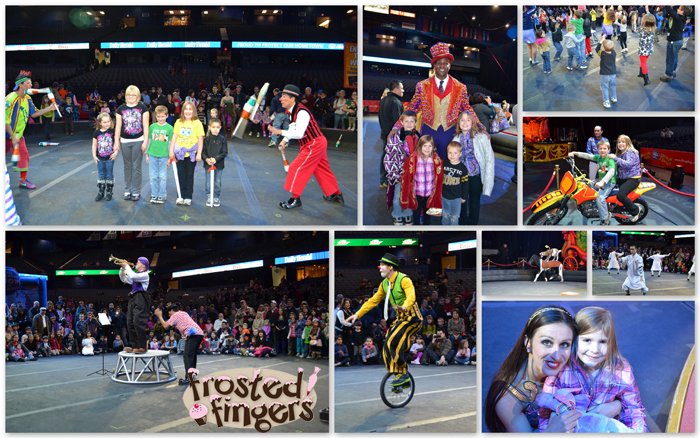 Doors open an hour prior to each performance ALL tickets holders are invited down to the arena floor for the FREE ALL ACCESS PRE-SHOW Power Up Party!! Arrive early and bring your cameras for a chance to meet your favorite performers and animals. My kids had a BLAST at the pre-show! Buddy is not normally a "joiner" but this time he was out there dancing and trying Martial Arts, playing swords with all the kids and just all around having a good time. Monkey was not feeling well so she didn't do a lot of joining in. The clowns were hilarious and very entertaining. It's a great way to get your kids' "sillies" out before they have to sit through a long show.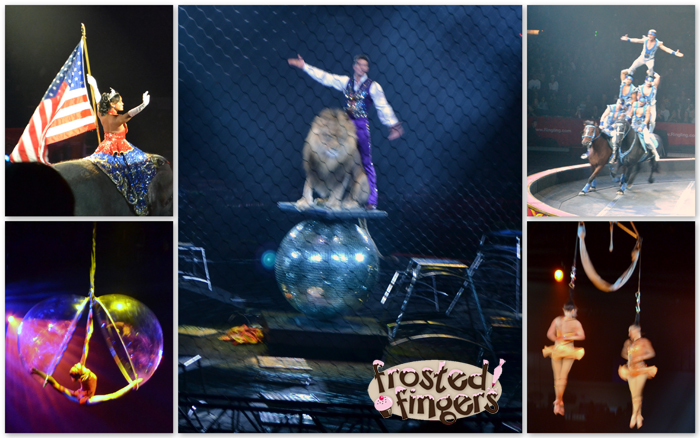 The first act consisted of cool horse tricks, girls hanging by their hair doing tricks, women unsupported hanging from the ceiling in these giant clear balls that open and close and the lion and tiger show. I told my husband that I wanted to go down there and cuddle the big kitties. He told me I was crazy. That trainer just may be. He was very loving to the cats, though. He kissed them and hugged them a lot.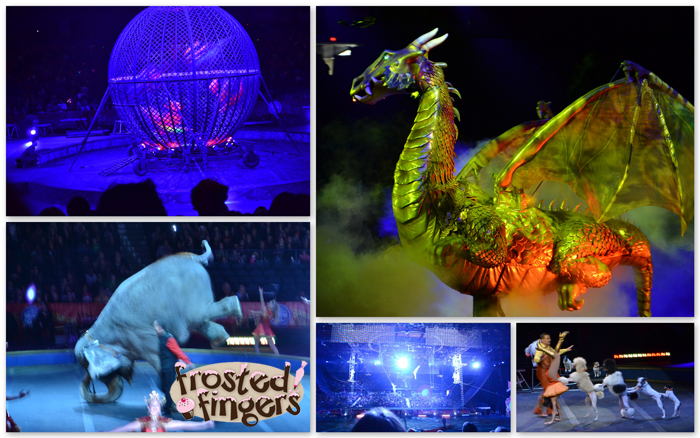 I think I liked the second act the best. It started off with some pretty amazing trapeze work, had crazy motorcyclists, elephants, funny clowns and a three ring show featuring cats, dogs, and other animals. There was so much going on in the three ring show that it was hard to catch it all. I loved watching the dogs but I wanted to see the cats as well. The dragon was also featured more in the second act. It was done beautifully.
The kids had such a great time at the circus! Little Man got a flyer on the way out advertising Princesses on Ice and Monster Trucks. He carries that flyer around still, a week later, because he can't wait to go see monster trucks again.
Don't forget: You can save 20% on weekend shows and 40% on weekday shows by using the code "MOM" at Ticketmaster.
Note: I wrote this review on behalf of Feld Entertainment and received tickets to facilitate my post.