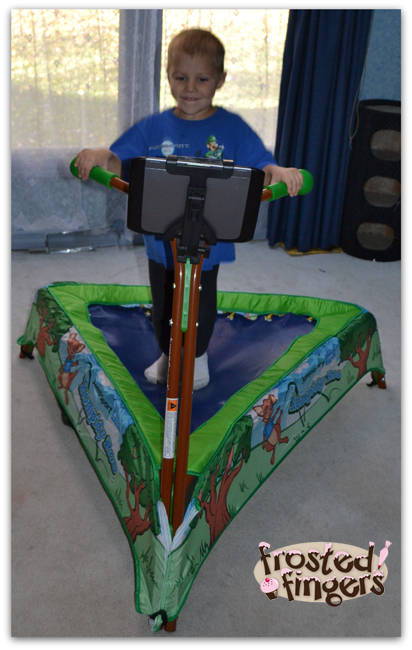 With it getting colder outside here, it's important to me to find something that the kids can get their energy out. I found out about iBounce and had to give it a try!
JumpSport ® iBounce • Ages 2-5 or up to 80 pounds • $129.95

with Hop-A-Long with RompyRoo – Where Is Mr. Fuzzy? (first video)

This mini-trampoline provides kids with years of fun, learning basic bouncing activities. They'll want to use it every day! Easily assembled in about 15 minutes. The included 12-minute video introduces RompyRoo and basic movement skills and counting concepts as children bounce through the woods and all that nature places in the way.
It took me closer to 45 minutes to put the trampoline together because I was having a hard time with the directions and having the poles cooperate. The kids absolutely love this thing, though!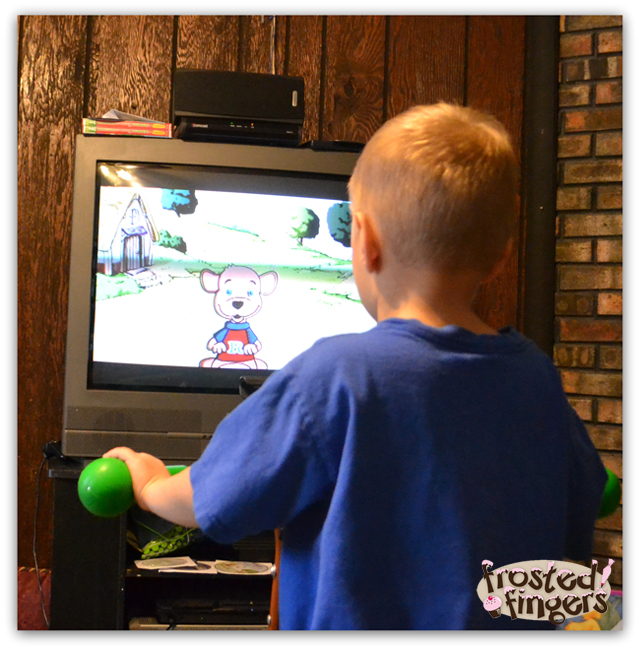 The iBounce comes with a DVD called Hop-A-Long with RompidyRoo™. It's an exercise video that the kids can bounce along with. The DVD also comes along with instructions on how to load the video onto your iPad so that the kids don't have to be in front of a TV while playing. I couldn't get it loaded on my XYBoard so we just watch the videos on the TV. The tablet holder does have a great range of motion to hold different size tablets and it did grip my XYBoard tightly so it would not fall off with the bouncing. They also came out with two more videos to keep it from getting stale for the kids: Let the Games Begin and The Grand Finale. RompidyRoo breaks down the exercises in a way a toddler can understand. Little Man loves exercising along with the video. The older two just love to bounce and bounce.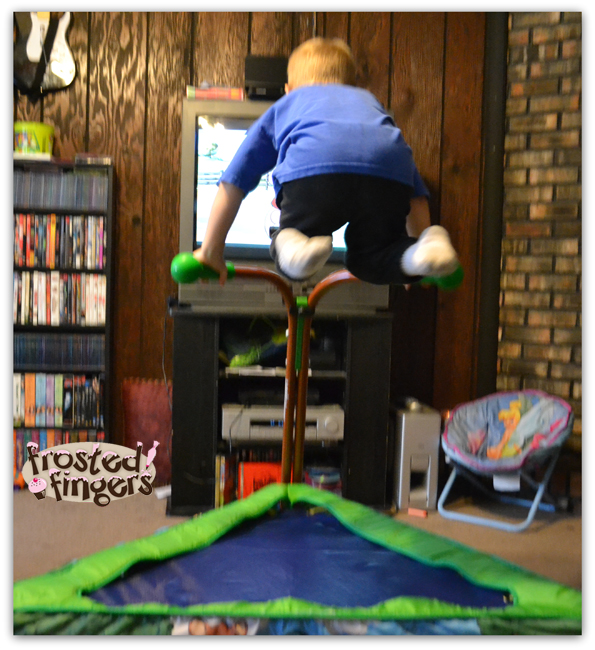 You can see that Little Man gets some serious height with his donkey kicks. The iBounce is $129.95 right now. You can buy it on the JumpSport website or at Costco in store or online. You can also win one here!
Note: I was given an iBounce Trampoline in exchange for my post. All opinions are my own.

Giveaway is open to the continental USA and ends on November 28, 2012 at 12:01 am EST. Winner will be selected at random from all eligible entries and will be contacted by email. Winner will have 24 hrs to respond. Winner may only win one prize pack, if you win on another site, a new winner will be drawn. Please add paula@frostedfingers.com to your trusted email filter. If original winner does not claim their prize within 24 hrs, it is forfeit and a new winner will be selected promptly.
No purchase necessary to enter or win. Odds of winning are not increased by a purchase.