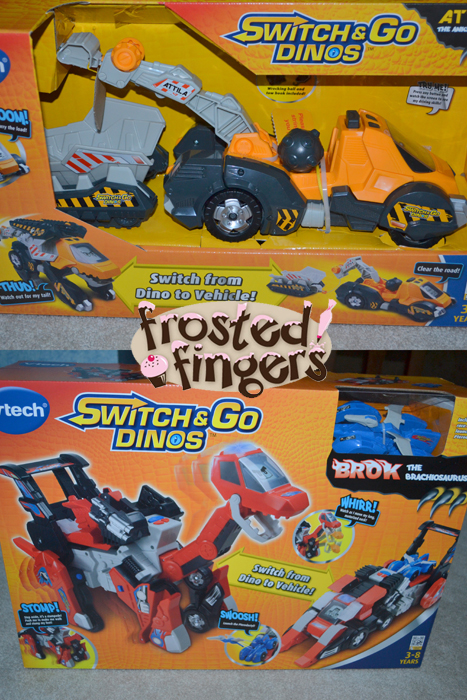 Meet Attila the Ankylosaurus and Brok the Brachiosaurus. They are Switch & Go Dinos from VTech. These are some of the coolest boy toys I've ever seen. Their price point is not bad, either, considering what they do. Atilla is priced at $24.96 on Amazon and Brok is $49.96 (others start around $15.99 each). I think these toys would make awesome additions to under the Christmas tree this year. These toys are trucks that transform into dinosaurs in just a few steps. They are so much better than transformer type toys that you need a rocket science degree to transform. These are simple for the boys to do by themselves. They are recommended for children ages 3-8. My youngest is almost 4 and my oldest is 7 and they both love them. Even though Grandma has been over several times since they got them, they show her their Dino trucks every time she comes over.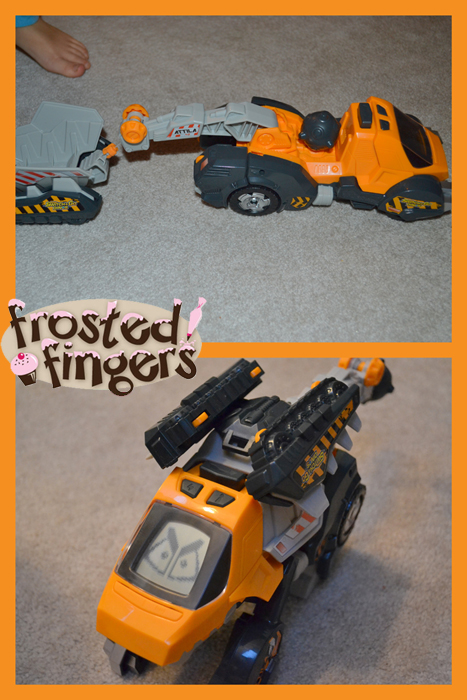 Attila, featured to the right, is Little Man's truck. He loves it. It's less complicated than Brok and he loves making the tail swing with the push of a button.
Meet Attila the Ankylosaurus ™
The dino who never backs down from a fight, Attila the Ankylosaurus can get you out of any jam!
In the dinosaur mode Attila comes equipped with a tail that swings back and forth with the press of a
button, and can be heard making dramatic dinosaur sounds and sharing 30 fun expressions, like, "I'm an
herbivore. I chow down on plants" and, "I'm built like a tank with armor all over my head, back, and sides."
Boys can customize Attila by selecting from four animated dinosaur faces on the LCD screen.
In 5-6 steps, Attila transforms into a construction vehicle complete with a movable crane. Included are two
accessories that plug into the crane: a wrecking ball and a tow hook. An accessory truck is also provided,
which doubles as spikes and armor in dinosaur mode. These accessories, together with Attila the
construction vehicle, create a realistic construction set for boys. In vehicle mode, Attila makes several
sounds and yells up to 30 phrases, like, "I'm a one man wrecking machine," and, "Yahoo!" Boys can
customize the driver in the Attila vehicle by choosing from four animated faces.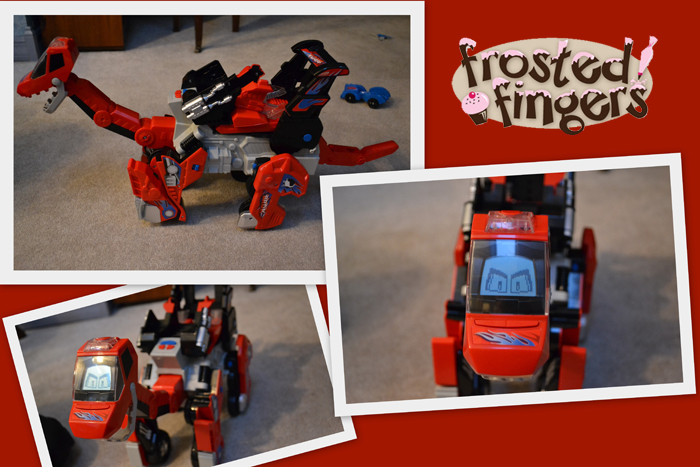 Brok is Buddy's truck/dinosaur. He loves this thing. It's really cool, because as a truck it is a car carrier that comes with a car that has a Pterodactyl that shoots out of it. Brok's legs actually look like he's walking when you push him.
Easygoing and rugged, with the personality to reflect it, Brok the Brachiosaurus is the ultimate dinosaur
vehicle!
Equipped with a motorized neck and legs that move up and down while rolling across the floor, Brok the
Brachiosaurus is pretty easygoing, but don't get on his bad side! With the press of the action button, Brok
will make dramatic dinosaur sounds, and say more than 40 phrases like, "I'm large and in charge!" or an
educational fact, including, "The name Brachiosaurus means arm-lizard." Boys can customize Brok by
selecting from six animated dinosaur faces on the LCD screen.
Within 6-7 simple steps, Brok easily transforms into a vehicle. In this form, Brok can interact with other
Switch & Go dinosaur vehicles, as he serves as a car carrier equipped with a launch pad to send vehicles
flying. Brok also comes with an included smaller race car that launches a flying dinosaur when sent down
his ramp. In this mode, Brok makes vehicle sounds, and says up to 30 expressions like, "Keep on truckin',"
and, "Saddle up partner," among others. Six animated driver faces are available for customization
Switch & Go Dinos are all about TRANSFORMING kid's imaginations, and we're excited give kids the opportunity with the Show & Tell with Switch & Go Video Contest! We want your kids to use their imaginations to see what cars and dinosaurs they would combine! Your kid can win a kids' lifetime supply of toys, your video on Nickelodeon and a viewing party with your friends and family!
From August 22 through October 1, visit
https://www.facebook.com/vtechtoys/
to enter.
 Simply upload a 30 second video of your child's home-made Dino creation. They can show us their new Dino by drawing, building or customizing their existing Switch & Go Dino. We want to hear about the cool things your child's dino does!
View and share your favorite video entries with your friends and family!
From October 8 through October 19 check out the top 10 to cast your vote for the coolest, most creative and fiercest video! Everyone who votes may be entered into a sweepstakes for the chance to win one of 25 sets of Sliver, T-Don, Horns and Tonn.
One grand prize winner will get a kid's lifetime supply of VTech toys, plus a chance to see your video air in a VTech commercial on Nickelodeon, which you can watch at your very own viewing party with friends and family. VTech will also transform your living room into the ultimate Dino den!
Everyone who votes on the top ten starting in mid-October and submits their email address will be entered into a Sweepstakes to win one of 25 sets of Sliver, T-Don, Horns and Tonn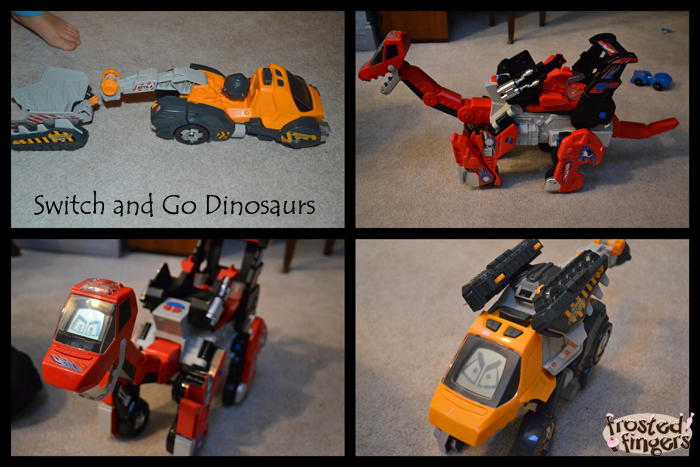 I participated in a campaign on behalf of Mom Central Consulting for VTech. I received VTech Switch & Go Dinos product samples to facilitate my review.