Monkey was so excited to see this Polly Pocket Playtime Pet Shop! She stood there and stared at it in awe until I would open it for her. It matters not how many little tiny toys she gets, she loves them all. She also absolutely loves animals, so this was the perfect play set for her. As you may recall, I also reviewed the Polly Pocket Hangout House Stick and Play Set and she loved that! Polly Pocket is one of her favorite toys to play with. The Stick and Play set had little suction cups on everything so you would not have to worry about things falling over on you. This set does not, but she didn't even notice the difference.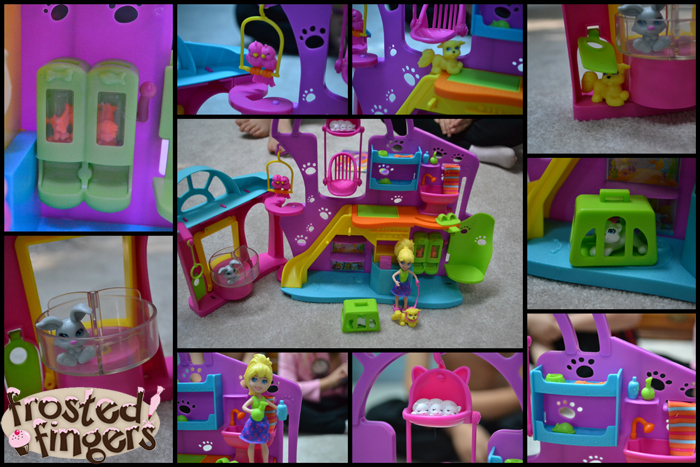 I love the detail in this set. There are dog and cat treats that you can drop out of a wall storage container and bath items to pretend and give your pets a bath. Polly Pocket could even hold the bath items in her hands. The only thing my daughter would have liked to see in the set was a second doll to play with, but she got over that quickly, too. Once again, I just wish that the Polly Pocket toys offered some kind of storage within itself to keep all those tiny tiny toys. I'm going to go out and get a plastic shoe box just for Polly Pockets! Oh, I forgot to mention, this time it wasn't just Monkey that was excited to play with her set. This time her brothers wanted in on the fun. The three of them sat and played together for a good 45 minutes before things went bad. (Three kids and one play set does not equal harmony for long.)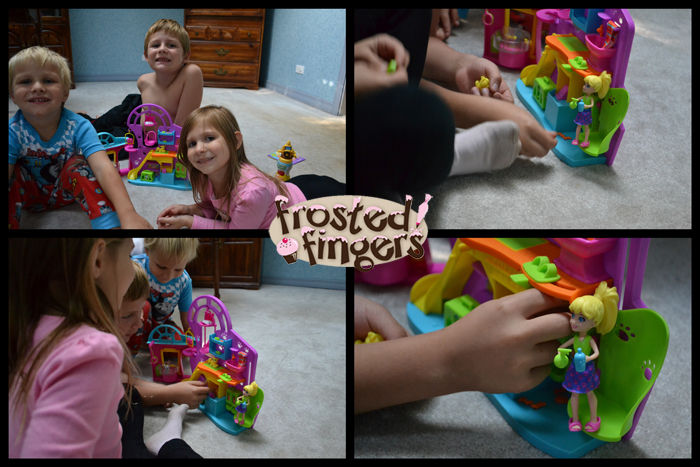 Also included for us to try out was a Polly Pocket video. I have to admit that I did not sit down and watch it with them, but the kids absolutely love it. They want to watch it over and over. We had a party the other day and they had to tell their friends about their Polly Pocket video. The video is called Polly Pocket Friends Finish First. It's not a full length movie, just a small episode so it keeps their attention the whole way through.
My daughter LOVES Polly Pocket and will most likely receive a few more smaller sets to add on to her collection at Christmas. (Just remember that if you get one, get something to store the pieces in, as well!)
I participated in a campaign on behalf of Mom Central Consulting for Mattel Polly Pocket. I received a product samples and a promotional item as a thank-you for participating.