We recently took our yearly family trip to Wisconsin Dells, WI. I thought I'd share with you the top 10 places to visit while there. You may notice that a lot of the items on my top 10 list are restaurants. It sure does seem when you're on vacation that all you do is eat! Sometimes kids will get stopped up if they're eating like this on vacation. I tried to help the kids stay regular this vacation by giving them Culturelle. The only kid that would take it was Little Man. I gave Buddy the chews and he begged me to never give them to him again. Monkey and Little Man got the powder that mixes into your drinks. Little Man drinks it without any problems but Monkey says there's something wrong with her drink and won't touch it. I do want to find a way to get these into their bodies on a regular basis, though, because Probiotics are so good for you. Culturelle helps reduce occasional digestive upset and boosts digestive health which in turn has a positive impact on overall health and immunity.
10. Howie's Restaurant: Howie's is the home of Howie's Super Breakfast. Their food is good and prices are good. Just don't go if you're in a huge hurry. We seem to have issues with speed at this restaurant at times. It could be because we usually come in as a big group.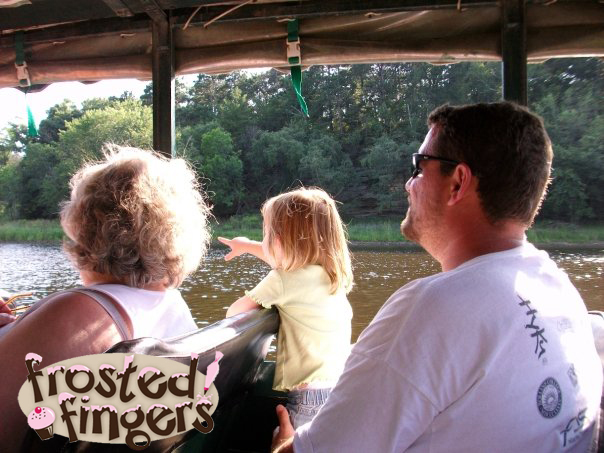 9. The Original Duck Boats: While we didn't get a chance to ride them this year, it is a great time for all! You get to see places around Lake Delton that you wouldn't see in a car. The driver of your Duck Tour is usually well versed in the area and many groaning type jokes.
8. Dairyland Fudge: It's located in the heard of downtown Wisconsin Dells. There are many fudge places to go in the area, yet we visit this same place every year. They have a ton of different flavors to choose from. My suggestion is to visit and buy your fudge at the beginning of your trip so that it's gone before you get home. Usually by the time you get home from vacation you're ready for food that's good for you.
7. Pirate's Cove Mini Golf: Again, there are several mini golf places around Lake Delton, but the reason I like Pirate's Cove is because there are so many different courses to chose from. They also have live chickens roaming around which the kids just loved.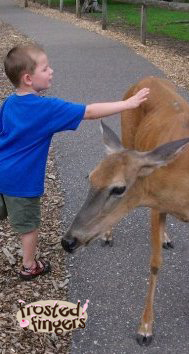 6. Wisconsin Deer Park: Another place we did not get to this year, but it's a great place to take the family. Last year when we went, Monkey was terrified at the beginning about feeding or touching the deer, but by the end she had them eating out of her hands, literally! Where else can you get so close to nature?
5. Timbavati Wildlife Park: This used to be called StoryBook Gardens. Timbavati took that over and have grown so much that they have had to change locations. Unfortunately their new location was not finished when we went this year, but it looks like it's going to be awesome. I'm hoping it doesn't lose it's small town feel in the amount it's grown.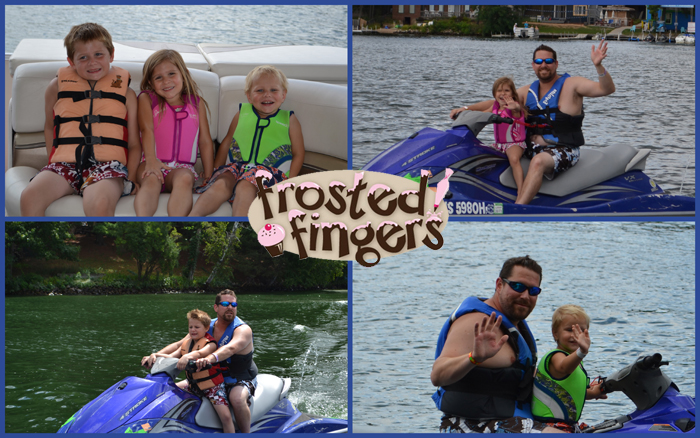 4. Lake Delton Water Sports: A really nice thing to do with the family is to rent a pontoon and just hang out on the lake for the day. We do this every year and it's so relaxing. The kids love it! The big kids (Dads) always rent jet skis as well for an hour or two.
3. Ravina Bay Restaurant: While the food is nothing special, it's a great place to go during the Tommy Bartlett show to eat. You can sit outside on their deck and watch the show from behind while eating or enjoying a beer.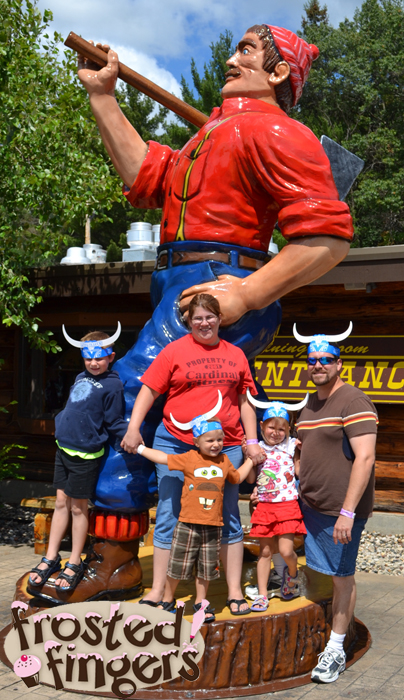 2. Paul Bunyan Cook Shanty: A great place to take the family for breakfast. There are no menus. They serve the same thing for breakfast every day and it's served family style. Your meal starts off with cinnamon sugar donuts, then you move on to scrambled eggs, sausage, polish sausage, hashed browns, biscuits and gravy, and pancakes. You get coffee, tea, orange or apple juice and white milk included in your meal. Everything is unlimited, you just have to make sure the family bowl is empty before asking for more. It's a great value for a family with young children, because you pay by the age for the young ones.
1. Monk's Grill: There are two locations for Monk's. If you don't have a large family, I suggest you go do the downtown location. There's just something about the original that makes it better. If you have a larger group (I would say 8 or more) go to the other location because there is more seating room. I'm not as fond of the newer/larger location because it feels too commercialized. Monk's has the best burgers anywhere. They make their own pickles, which taste a little strange to me.
If you visit Wisconsin Dells, what are your favorite things to do? Also, does your family use probiotics? My husband is convinced that the reason he hasn't been sick in a long time is because he takes them daily. I'd love for my kids to take probiotics on a regular basis, especially with being back in school!
Note: I was compensated for this post, but all opinions are my own.