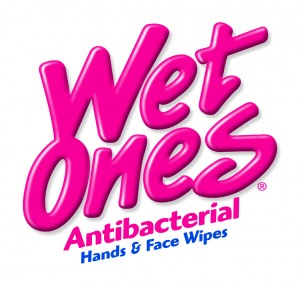 Yesterday I had to register Buddy and Monkey for school. I can't believe they go back next week and I also can't believe she'll be in ALL DAY SCHOOL! I will have only one little one home all day with me. We went back to school shopping yesterday and spent around $200 after shoes and supplies. When you go back to school shopping make sure one thing you pick up is some Wet Ones. I bet the majority of time the kids are not brought to the washroom before lunch to wash their hands. Think of all the fun stuff they touch between the time they get out of your car in the morning until lunch time. Now think of those hands touching their food and putting it in their mouths. Appetizing, right? If you throw a Wet Ones into their lunchbox, you know that they have the option of getting their little hands cleaned off before eating.
Last year I also made sure to keep some Wet Ones in my car for after football practice. Ick, what a mess my son would have on his hands from that! You could also donate a box to your child's teacher to have on hand to take care of messes from crusty noses and such. They're so convenient!
When soap and water are not available, Wet Ones® Antibacterial Hand Wipes are an effective alternative to clean hands and prevent the spread of germs. Wet Ones® Antibacterial Hand Wipes are proven to be just as effective as gel hand sanitizers in killing 99.99% of germs, but they also clean better than hand sanitizer gels, wiping away dirt and messes without drying out skin like alcohol–‐based hand sanitizers.
I wrote this review while participating in a blog tour by Mom Central Consulting on behalf of Wet Ones. I received a product sample to facilitate my review and a promotional item to thank me for taking the time to participate.