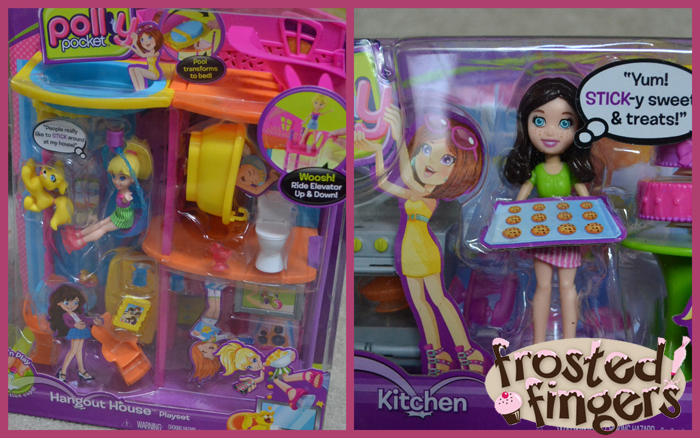 Monkey is a huge fan of tiny toys so when I got the chance to try out a few Polly Pocket playsets with her I knew she'd love them! We received the Polly Pocket Hangout House and Kitchen add on. She instantly fell in love and couldn't wait for me to open the packages. She played with it all day long the first day. The two dolls actually came on vacation with us. I wouldn't let her bring the whole set because I didn't want all the little pieces to go missing.
I like how the hangout house is full customization options. You can turn walls around to have them be a different room, change the tub into a bed, and just basically make it into your own play set. I thought it was awesome that they sent me the kitchen set. So perfect with the cake and oven. 🙂 One of the cool things about these play sets is that each piece has a suction cup on it so that you can stick it on the play set and not worry about it flying off. Another really neat thing is that the add-on sets can actually hook up to the house and make the house bigger.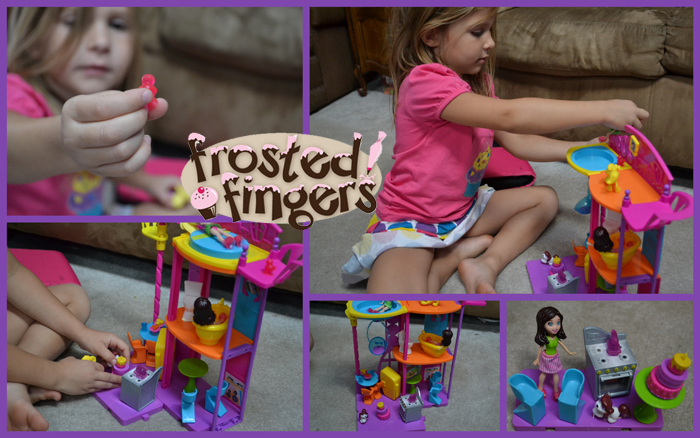 My biggest problem with the set is there's not a good storage solution for all the little pieces. I will most likely get a plastic shoe box to hold everything. My goal for the first full week of kids back to school is to get the two kids' rooms and basement reorganized and to get Little Man potty trained. Anyone want to come help? I'll update you on how I organize the Polly Pockets when I get done. I know they're going to be played with a LOT in this house! (If not by Monkey, than by me!)
I participated in a campaign on behalf of Mom Central Consulting for Mattel Polly Pocket. I received a product samples and a promotional item as a thank-you for participating.