Are you going to BlogHer next week? Perhaps you'd like to get a custom QR code made for your blog. You can head over to this Custom QR Code generator and have some fun! QR codes are everywhere now and how fun would it be to have one that's custom made for your brand?
Here at QRt.co our goal is to provide the ability to easily and instantly self-generate custom QR codes ranging from the standard black and white visual, to radically enhanced, clever, and persuasive designs. The end product can be considered a work of art, and thus gives rise to our company name, QRt.co.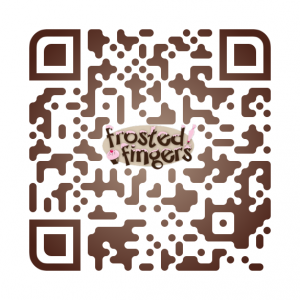 Unfortunately I had already ordered my business cards for BlogHer when I found out about QRt.co, so I couldn't add mine to my cards, but it is at the bottom of my media kit. It was fairly easy to make a custom code on their site. One thing I really didn't like, though, was that there was no way to save your code if you were in the middle of working on it and needed to walk away. The first code I made wasn't able to be scanned. Of course I didn't test it first. Be sure to test before you pay for your code! I think it was because I had made my logo too large in the middle. It seems to work perfectly fine now, though. Your code can be made as small as 500×500 up to 3000×3000. I made it the largest so that I can go down in size. Easier to shrink an image than it is to make it larger.
What do you think? Is it cute? Check out my friend Virginia's Bald Chick QR code as well.
Note: I received a custom QRt.co product in exchange for my honest opinion through Blog Friendly PR, no monetary compensation was received.