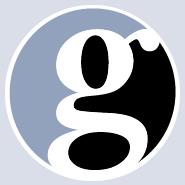 We were blessed to stay at Global Resort Homes during our stay in Kissimmee, FL. If you haven't read about them yet from my Brandcation trip, let me tell you who they are and just how AWESOME they are! Global Resort Homes is a great vacation rental home company in the Orlando and Kissimmee area. They have nine different resorts that are minutes from Disney. Their rates start at $79 a night, which is awesome for having your own private space near Disney!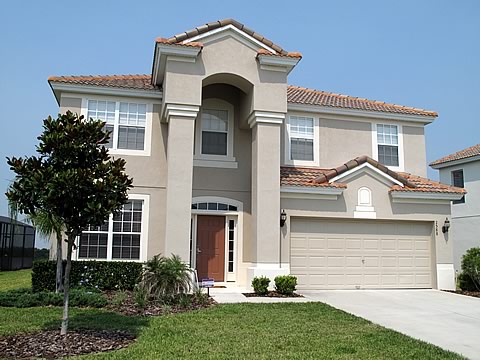 We got to stay in a 6 bedroom, 4 bath house for the week. We didn't get in until 2 in the morning on our first night. Little Man stayed asleep and we just placed him in a bed. (I was a little worried he'd freak out in the morning in a new house.) The other two kids had to go potty so they were awake when we got in the house. They were SO excited! They couldn't stop running around the house to see all the rooms and the pool and the game room! We couldn't get them to settle down to go to sleep for an hour.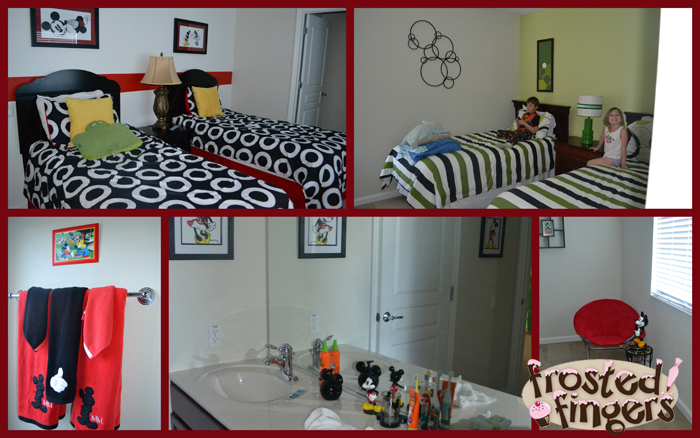 Little Man got to sleep in the Mickey Mouse room while Buddy slept in the green stripe and circle room. Our room was right next to Little Man's room so luckily I was able to hear him wake up the first morning and start walking around. He was a little disoriented, but got excited very quickly afterwards. The kids spent the first half of the morning playing around in the game room. They loved it! They also found out how cool it was to have tv's in their rooms. They enjoyed being able to watch whatever they wanted without having to fight with someone else.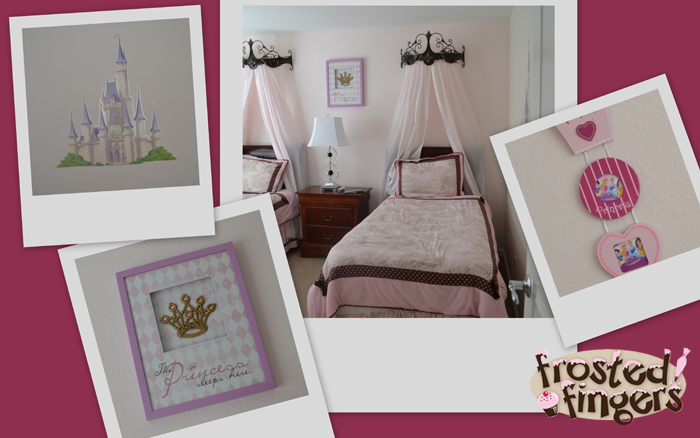 Monkey fell in love with her princess room. There were stuffed dogs on each bed in her room that she immediately was carrying around the house with her when she was touring it. As I said in my Beyond Bedding post, the bedding in the princess room is the bedding I almost picked out for her. It was fate that she got that room. 🙂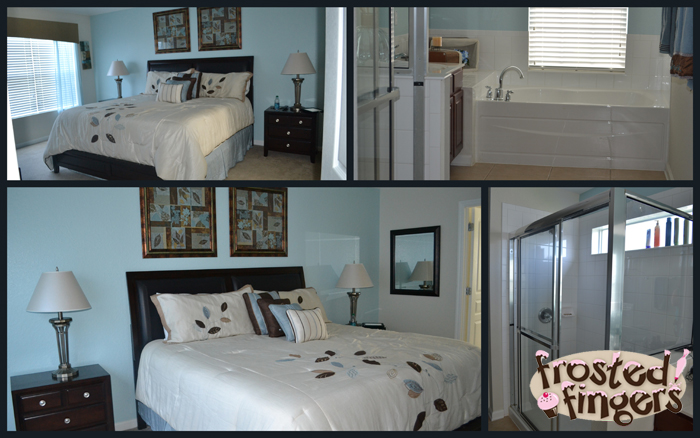 I loved our master bedroom. The bed was super high and a little hard to get into, but it was kind of nice to not have the kids be able to crawl into bed with us. Although the funny thing is they were so tired that they didn't wake up in the middle of the night to sleep with us like they do at home. I wanted a chance to use that giant bathtub but was never awake enough in the evening to use it. Our week was jam packed and I was exhausted by night time!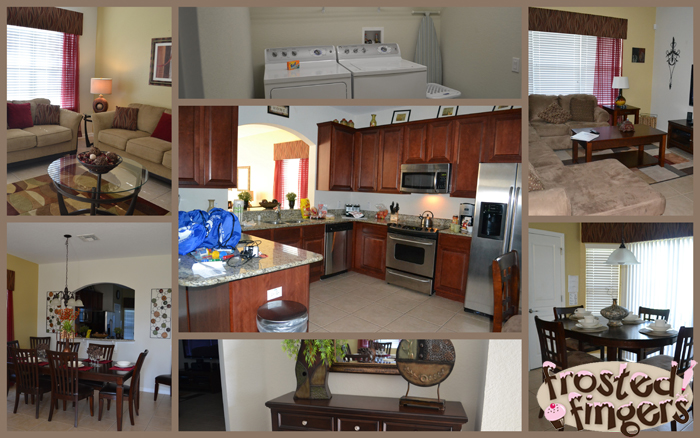 After seeing the kitchen there, I never wanted to leave! It was so nice to be able to have a kitchen while on vacation. Our first day we went to Publix and got enough breakfasts for the whole week, lunch fixings for two days and three dinners. It was such a huge savings from eating out every night. The first night we got a rotisserie chicken and I made homemade mashed potatoes with green beans. There was no potato masher in the house. You would have had a nice laugh watching me squash potatoes with two wooden spoons. 🙂 We never needed to use the formal dining table while we were there because it seemed like we were always eating in shifts and didn't need to sit down at the big table. I loved hanging out in the living room right off of the kitchen. It was so nice to be where everyone was. The laundry room was right off of that room with the game room right off of that.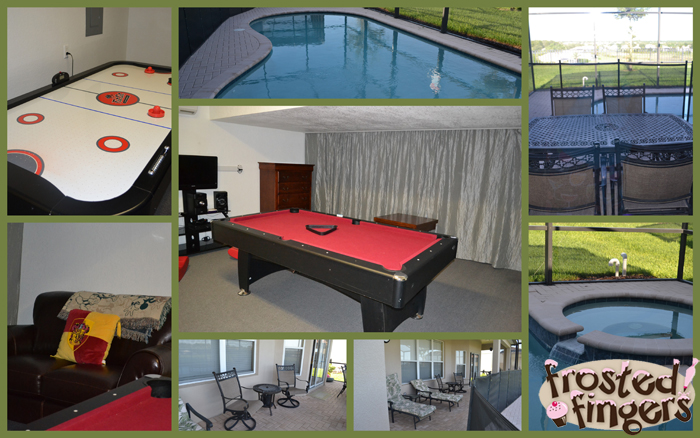 I already mentioned that the kids spent the first morning in the game room. That room got a ton of use. It had a pool table which you could convert into a ping pong table, a Foosball table, and a Kinect game system. The game room is actually the garage made over so it can get warm in there, but they do have a wall air conditioning system to get it to cool off nicely in there.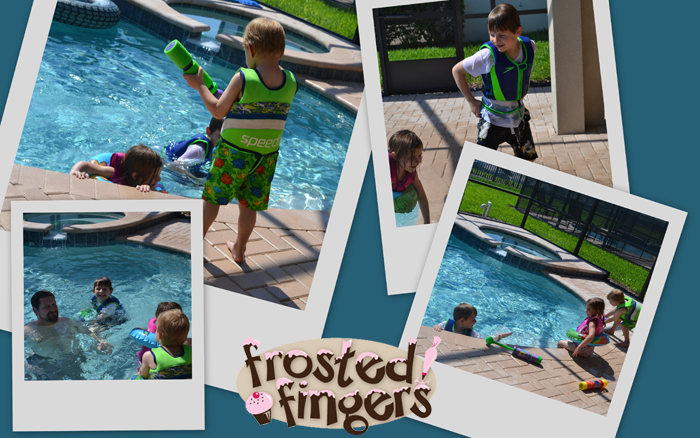 The swimming pool got the most use out of the stay. The two older kids LOVED being in the pool. Monday we asked the kids if they wanted to go to Disney World. Buddy asked if we could just stay there and swim. (He had no idea what Disney World was.) He did change his tune once we got there, though. One of the best things about having a pool at the house is that it doesn't have a close time like it would in a hotel. We could come back and use it late at night if we wanted. We were actually going to use the hot tub one night after the kids went to bed, but I was too tired to get my suit on. Little Man would only walk around the pool with his squirt gun squirting everyone. If you have small kids, there is a safety gate that goes up around the pool so that your little ones can not fall in. If you can figure out how to use the alarm (we never did) you can set it so that an alarm will sound if the back door opens as well. Double security against your little ones getting hurt. The pool heater was awesome for the hot tub. We did use that once during the day. It was the day after Magic Kingdom and it felt wonderful to sit in there and relax my muscles.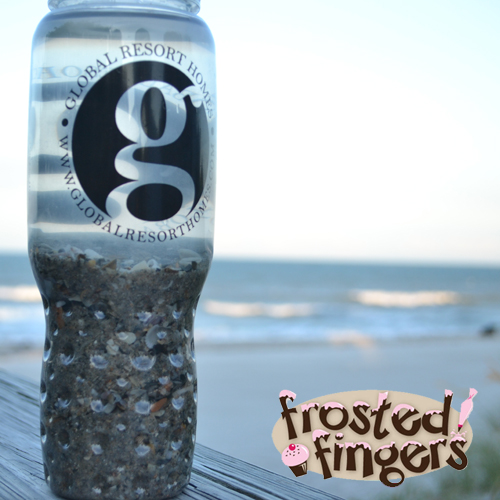 My inlaws actually came with us on our vacation and stayed in the house with us. There were two more rooms that I didn't get the greatest pictures of. They stayed in one of those. It was so nice to have enough room for everyone to spread out. My mother-in-law couldn't stop gushing about how wonderful the house was. The house we stayed in is $333 a night in off season and $450 in peak. It sleeps 12, though. Say you wanted to have a family reunion or a girl's weekend and you had 6 people staying there, that's $55.50 a night per person. You can't beat that! Everyone gets their own room and there is just so much space to spread out! You can book by calling (877) 422-3516 or book online on the Global Resorts Page. You can also follow them on Facebook and Twitter for awesome deals! Keep an eye out over the next few days as I will be posting about what kind of things you'll want to bring with you WHEN you book.
I want to thank Global Resort Homes for the beautiful home to stay in, along with the owners of 2588 Archfeld Blvd. I received a complimentary stay in the home, however all opinions are my own.