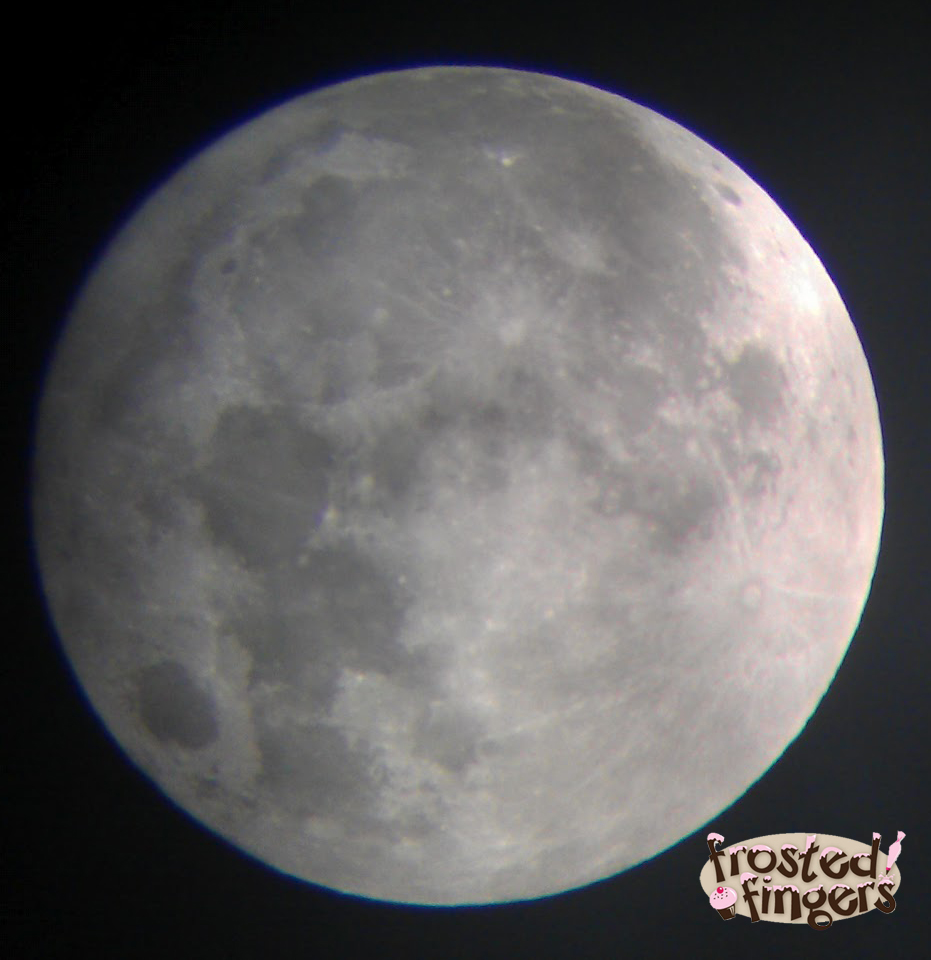 Time to pick up where I left off telling you about my Brandcation trip. Saturday after we went ziplining and tubing we went back to our condos to freshen up and eat dinner. We had pizza and just enjoyed each other's company. After that we headed down to the beach to meet Dewey who heads up the Escambia Amateur Astronomers Association. That night happened to be the night of the Super Moon.
Popularly known as the "Supermoon", the moon appears much larger above us when the elliptical orbit brings it within 221,802 miles to Earth, the closest point. The effect is magnified during a full moon, when we see our nearest celestial neighbor appear roughly 20 percent brighter and 15 percent larger. -boston.com

We got to the beach and there were a bunch of people with super telescopes set up! It was so awesome! Not only did we get cool pictures of the moon on our smart phones (that picture of the moon on the left was taken on my HTC Sensation through a telescope owned by Dewey) but we were able to see Saturn, as well. It was SO cool to see Saturn. It seemed like we were looking at a drawing instead of the real planet. Amy from Grinning Cheek to Cheek was actually able to get a pic of Saturn! I tried and tried but couldn't get my phone or camera lined up right with the lens.
If you're in the Pensacola area and would like to meet up with the Escambia Amateur Astronomers Association, here are some dates for you:
Fort Pickens Gazes at Battery Worth
May 18, June 15, July 20, Aug 17, Sept 14 and Oct 12
(The gaze is free, but normal park entry fees of $8.00 will still apply)
Gulfside Performance Pavilian Gazes
May 25/26, June 22/23, July 27/28, Aug 24/25, and Oct 19/20
(Free parking is available in the Casino Beach parking lot, near the Beach Ball Water Tower.)
Members telescopes and binoculars will be set up for views of: the Moon, Planets and other Celestial Objects. Clear skies permitting, Members will begin setting up their telescopes for these events just before sunset.
For more information about the Astronomy Club, or for scheduling a star gaze for a school, scouting, or other social event at your location…
Contact Dewey Barker after 4:00 PM at (850) 450-7767 or visit www.eaaa.net or go to http://rlwalker.gulfweb.net/astronomy/index.html to view their calendar of events and club photos.
Note: Dewey and his club members were awesome to us and allowed us to look through all of their telescopes, took time to explain things to us and helped us to take some great pictures. Thank you Dewey!