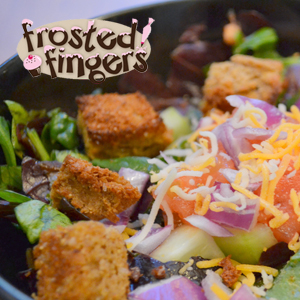 I decided I wanted to attempt to make an Outback meal at home for my husband. We haven't been on a date in a long time so I thought maybe it'd be cheaper to make the meal at home. (I think if you factor in the cost of babysitting it may have been cheaper.) Anyway I'm going to do a few posts coming up of all the recipes I made. I did the Outback Tangy Tomato dressing, their Bushman bread, which I also made into croutons for the salad, honey butter, their jacket potatoes and steak marinade.
The dressing I made with Splenda
instead of real sugar because I was trying to keep this a little lower calorie than I would have had at the restaurant. I think the dressing was similar to Outback's dressing, but because I used the Splenda it wasn't quite the same. It still had that kick that you get when you eat theirs. If you're not looking for a lower calorie version, definitely go with the regular sugar! Using MyFitnessPal I came up with this dressing being 37 calories per 2 tablespoon serving.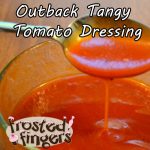 Outback at Home: Tangy Tomato Salad Dressing #Recipe
Ingredients
⅔

cup

ketchup

⅓

cup

water

¼

cup

Splenda

¼

cup

white vinegar

2

tablespoons

olive oil

⅛

teaspoon

paprika

¼

teaspoon

coarse black pepper

¼

teaspoon

garlic powder

¼

teaspoon

cayenne pepper

¼

teaspoon

crushed minced onions

or onion powder

1

pinch

thyme

1

dash salt
Instructions
Combine all ingredients in a small saucepan over medium heat.

Bring to a boil, whisking often, then reduce heat and simmer, uncovered, for 5 minutes.

Cover the dressing until cool, then refrigerate it until well chilled or overnight.
To pull the whole salad together, toast up your croutons. Toss your greens in the salad dressing and put in bowl. Top with cucumbers, tomatoes, red onions and a little bit of cheese. Simple!