This has always been one of my favorite recipes. I'm bummed it's no longer on the Bisquick box.  I made it for my International Delight Coffee Klatch tasting. My kids kept coming in and stealing a piece when they thought I wasn't looking.
Bisquick Coffee Cake #Recipe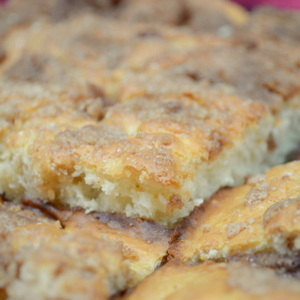 Ingredients
Dough
2 cups Bisquick
2⁄3 cup milk
1 egg
2 tablespoons sugar
Topping
1⁄3 cup Bisquick
1⁄3 cup brown sugar
¼ teaspoon ground cinnamon
2 tablespoons butter
Instructions
Preheat oven to 400 degrees.
Grease a deep pie plate, 8"x8" square pan, or 9"x9" square pan.
Mix dough ingredients and put in baking dish.
Mix topping ingredients with a fork or pastry mixer until crumbly.
Spread topping mix over dough and drag a butter knife through your dough several times.
Bake for 25 minutes.