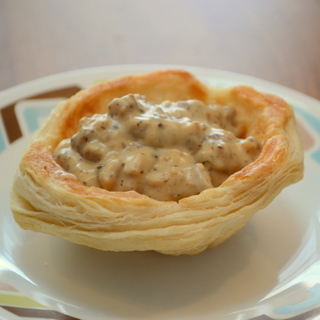 I originally started off this morning making Cat's sausage gravy recipe with her idea of biscuit bowls. I got the sausage going and all of a sudden my husband took over my kitchen! I got all the ingredients ready and he made the gravy. He decided to experiment and add half and half and brown sugar to Cat's recipe. It turned out REALLY good! You can always leave out the eggs and and just make biscuits and gravy bowls, which are just as awesome! It almost reminds me of the Bob Evans Sunshine Skillet. Only thing missing is the home fries.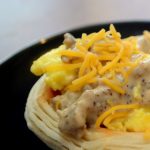 Biscuit Bowls with Eggs and Sausage Gravy Recipe
Ingredients
1

can refrigerated buttermilk biscuits

1

Jimmy Dean Mild Country Sausage Roll

2

T

butter

3

T

all purpose flour

2

cups

milk

2

t

brown sugar

1/2

c

half and half

salt and pepper
Instructions
Preheat oven per biscuit directions.

Stretch out biscuits and place over the bottom of a cupcake pan. (I used a mini bundt pan tray)

Bake biscuits as directed on the packaging.

In a deep skillet over medium-high heat, cook sausage until heated through (no longer pink).

Add butter and cook until melted.

Add flour and stir.

Slowly add milk, a dash of salt and black pepper and stir.

Add in brown sugar and cook until incorporated.

Slowly add in half and half.

Continue cooking until gravy bubbles and thickens.

In a separate pan, scramble eggs.

To serve, put scrambled eggs into biscuit bowls, pour sausage gravy over the top and sprinkle shredded cheddar on top.