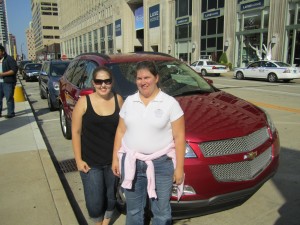 Two weeks ago I was lucky enough to take part in the Chevy Cupcake Quest. My partner was Alicia from Making Time for Mommy. I got to drive a Chevy Traverse around downtown Chicago for the morning. Let me tell you, I loved that car! It was super comfortable. One of my favorite features was not only did it have heated seats, but you can put them on cool as well. How awesome is that for the summer? I left it on too long, though, and had numb butt. 🙂 Another neat feature was the turn signal; when switching lanes you only have to tap the signal and it stays on for a short period of time. No more accidentally turning on the signal to switch lanes and forgetting about it!
So back to the Quest. There were three teams of bloggers and we were given a Chevy vehicle to drive around downtown Chicago to visit 5 local cupcake bakeries. The goal was to hit four bakeries and be the first back to the fifth bakery for a Sweet-Up. When visiting each bakery we had to buy a cupcake, take pictures, tweet, and write mini reviews on twitter about the cupcakes. There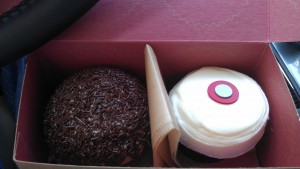 were other activities you could do to earn points, such as: have someone take a picture of you jumping in front of your Chevy or sing Happy Birthday to Chevy. (Did you know it's Chevy's 100th birthday?!) You could also nominate a local "hero" to Our Town, Our Heroes for some extra points. I nominated my friend Jameela, who has a daughter with Myasthenia Gravis. She's been trying to educate people about Safa's Struggles and raise money for the foundation.
Like I said, we got to visit 5 bakeries in Chicago. They were: Sugar Bliss, Swirls, Sweet Mandy B's and Sprinkles with a final stop at Bleeding Heart Bakery. The cupcakes were ALL delicious! I tried to get a red velvet at every one so that I could compare each bakery. I wish I had taken notes on paper instead of relying on twitter, because I'm having a hard time getting back to my old tweets. 🙁 I know that at Swirls they had us try a Gluten Free mint cupcake and OMG it was SO good. I couldn't tell that the cupcake was anything but normal. It tasted to me like Fannie May Mint Meltaway ice cream, except it wasn't frozen. It was delicious! By the time we got to Bleeding Heart, I was kind of cupcaked out. I ended up getting a lemon bar while we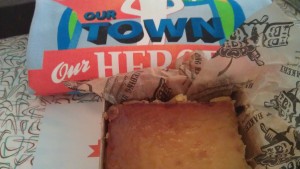 had our Sweet-Up at Bleeding Heart and waited on the final scores. The lemon bar was gigantic and I think I ate maybe a quarter of it. We were all dying for something salty by the end! (Alicia and I actually ended up going to Buffalo Wild Wings after everything was over for lunch.)
Finally it was time to reveal the final scores. I was totally surprised to find out Alicia and I won!! For winning we both got a $100 gift card to Bleeding Heart Bakery and a one week loan of a Chevy (or GM) vehicle of our choice! Now to figure out what to use the bakery gift card for and where to drive that Chevy! Road trip anyone?!
I want to give a huge thank you to Chevy and Patrice from Designs by Shay for putting this event together. I really had a great time. Here's a link to Bonnie's post about the event. As I find the posts by our other bloggers from the event I'll add them in.
Disclosure: We were given a gift card to cover all expenses for the Quest. All opinions are my own.