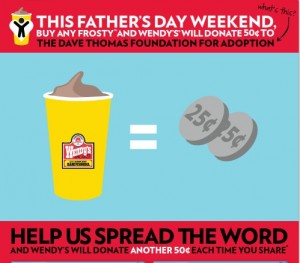 50 cents from each Frosty purchase will be donated to the Dave Thomas Foundation for Adoption (DTFA,http://davethomasfoundation.org/) on Father's Day weekend (June 18 & 19). These donations will be used to benefit the cause of Wendy's Wonderful Kids, which is a program that helps foster children in need find great homes.
HOW DO I DONATE?
There are so many ways to donate! Check them out and be sure to pass them on!
1. Twitter – Use the Treat it Forward application on www.facebook.com/frosty (Treat it Fwd tab), or use the hashtag: #TreatItFwd . A donation will be made, by Wendy's, for each designated tweet or re-tweet made from Treat it Forward. Here are some sample tweets:
– Buy a @Wendys Frosty to #TreatitFwd and donate 50 cents to @DTFA this Father's Day! RT to donate!
– Want to help foster kids find homes? RT this to donate 50 cents to the @DTFA!!! #TreatitFwd!
– I'm donating to @DTFA by enjoying this YUMMY Frosty from @Wendys. 50 cents from a purchase are donated! #TreatitFwd
– Go to @Wendys on June 18 & 19 and buy a Frosty! 50 cents will be donated to @DTFA! Help #TreatitFwd by RT!
– Share a @Wendys Frosty with your FB friends! http://on.fb.me/mjFgBL Each frosty is a 50 cent donation to @DTFA! #TreatitFwd
2. Facebook – Send a Facebook friend a "virtual" Frosty, or tell friends about Father's Day Frosty Weekend through the Facebook application found on www.facebook.com/frosty (Treat it Fwd tab); as a result, Wendy's will make a donation.
3. Also, from Facebook, on Father's Day Weekend only (June 18 & 19), offer a "Here's to You, Dad!" Frosty "virtual toast" by snapping a photo of you raising your Frosty cup to Dad, tagging it with the words "Wendy's Father's Day Frosty Weekend" and posting it to Wendy's Facebook wall or tweeting it; this, too, will result in a donation from Wendy's.
4. Foursquare – Every person who 'checks in' to a Wendy's during Father's Day weekend only (June 18 & 19) will result in a donation from Wendy's.
We'll be headed to Wendy's tonight for our Frosty's since this weekend is going to be jam packed. I've yet to try a vanilla frosty. My favorite way to eat a frosty was to dip my Wendy's fries into it. I haven't tried that with their new fries, though.
Win It:
Your Winner

Author:

Cheryl F.

Website: http://www.theluckyladybug.net/ Comment:

We're spending a quiet day at home for Father's Day this year 🙂 *Thanks* for the giveaway!
One lucky reader will win a $7 Wendy's gift card.
Mandatory Entry
Tell me what you'll be doing for Father's Day this year. (I need ideas) 🙂
Extra Entries
Like Wendy's Frosty on Facebook
Follow Wendy's on Twitter
Like Frosted Fingers on Facebook
Follow Frosted Fingers on Twitter
Enter the giveaway on Mom and More and come back to tell me.
Tweet about this contest once every 24 hrs. Please include @frostedfingers and #TreatitFwd. You can use the tweet button at the top of the post or any of the sample tweets from above.
Become a Google Friend Connect Follower (on the right)
Subscribe to Frosted Fingers via RSS (2 entries)
I was given a gift card for free in exchange for a post and my opinions.  All opinions are my own. Thank you to Wendy's and The Motherhood for supplying a gift card to me and one to my winner. Contest open to US residents.  Contest will close at 11:59 Central 7/1/11.