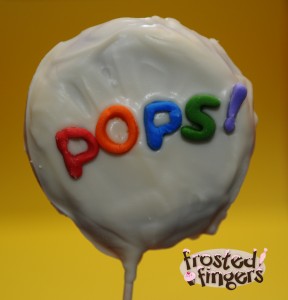 I've made cake bites before and even cake pups, but this is my first time trying Wilton's Cake Pops! I found out from Cat at 3kidsandus that Wilton was having a Pops! Blogger Contest and knew I had to try it out myself! (Cat also has great instructions on how to make cake pops on her site.) I'm hoping to make the top 10 picked by Wilton!! The top 9 win $100 and the winner gets $500! What a great way to start out the year!
Look at all the awesome supplies they sent me to be part of the contest:
Recipe:
First Make Wilton's Pound Cake from a cake mix:
Ingredients:
1 package (18 oz) cake mix
1 package (4-serving size) instant pudding and pie filling mix
4 eggs
1 cup water
1/2 cup vegetable oil (I used coconut oil, I love the taste in cake)
Directions:
Preheat oven to 350. Spray one 13x9x2 in pan or two 8 or 9 in round pans with vegetable pan spray or Wilton's Cake Release.
In large bowl, combine cake mix, pudding mix, eggs, water and oil; beat at medium speed with electric mixer for 2 minutes. Pour into prepared pan. Bake 30-35 minutes for round pans; 35-40 minutes for sheet pan. Cool in pans 10 minutes; remove from pans to cooling grid and cool completely.
Then Make Favorite Cake Ball Pops:
Ingredients:
1 half of the above pound cake recipe (freeze the other half until ready to use)
1/2 cup creamy icing (your favorite flavor.)
1 bag (14 oz) candy melts, melted following package directions
Directions:
In a large bowl, use hands to crumble cake until no large chunks remain. Add icing and mix with fingers until well combined. Form mixture into cake balls or press into silicone molds. Chill in refrigerator at least 2 hours. If using a silicone mold, carefully remove cake ball shapes. Dip sticks into melted Candy melts and insert into cake balls; let set. Wait until candy is completely firm before dipping the pops completely in melted Candy Melts; let set.
There are so many different things you can do with cake pops! You can make different shapes, add in different mix-ins, dip in different flavored candies or chocolates, cover with fondant… it's in what you want!
For the Pops! cake pop I made above I used red velvet cake mix and baked it in Wilton's Round Cookie Treat Pan. I melted the candy melts in Wilton's Chocolate Pro pot. Since they were a little too big to dip I just poured the candy over the pops. I made the letters out of Wilton's Rolled Fondant that I colored and then cut out with Wilton's Alphabet Cut-Out Set.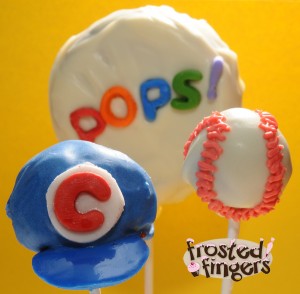 For the baseball pops I used fondant for the bill and logo on the hat. The pops themselves are dipped in Wilton's Candy Melts and the baseball has frosting for the stitching that I *tried* to dye red.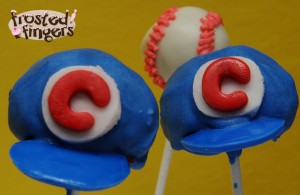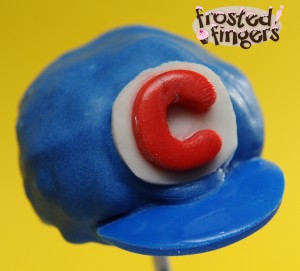 The only product I was disappointed in was the cake pops stand. It kept falling apart and knocking my pops into each other.
Wilton gave me the products shown above for the bloggers Pops! contest all opinions are my own. Pictures taken by Rob Krueger Photography.