First I want to say a HUGE thank you to Trisha Haas and Leah Segedie for putting together this wonderful weekend. It was probably one of the top 10 weekends of my life! The friendships I made were awesome! I'll start off at the beginning of the weekend.
I left the house at 4:30am Friday morning to hit the road. I arrived at the Prince Conti Hotel around 3pm and met up with my roommates: Brittany and Kasandria. (They're troublemakers 😉 ) We settled in, got dressed and headed to Trisha's suite to check in and get our credentials and tshirts.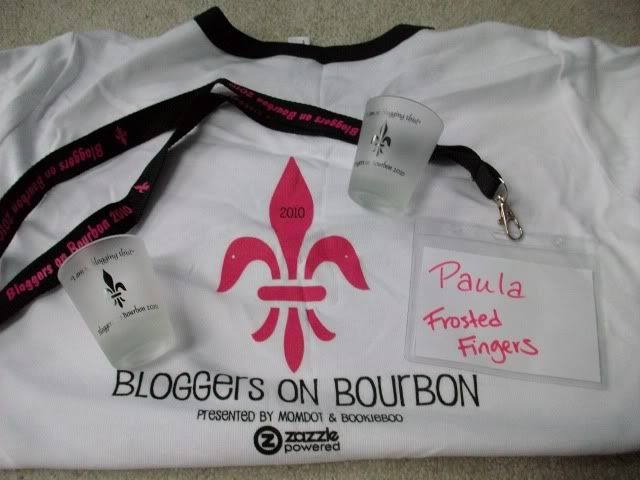 After that we all headed to Harrah's Casino for dinner at Besh steakhouse. We got to sit with Alex at dinner, he was the face of Harrah's for the night. He was a great, funny guy! The food at Besh was AMAZING! They're spicy meat pies were YUM! I'd love to find a recipe for those! After dinner we walked over to Jackson Square to meet up for a Ghost Tour provided by Lingerie.com. The corsets that Trisha and Leah wore were HOT! We walked around the French Quarter hearing the history of some of the most beautiful (and not so beautiful) houses in New Orleans by Kalila Smith. I was trying to track our walking for my training and we were over 4 miles between walking from Harrah's and a little over half of the tour before my phone died. We walked a LOT that night! It's been 5 days and the mosquito bites on my legs still itch. New Orleans mosquitoes are nasty little creatures! After the ghost tour we all headed back to our rooms to get into some pajamas and head down for swag, cheesecake and wine! The cheesecake was supplied by Bake Me a Wish.  They had a red cake cheesecake that was AWESOME! I am going to see if I can make a replica of it. I could have eaten the whole cake by myself! The wine was provided by Black Box Wine and I loved it! After we finished getting our swag up to our rooms it was time to hit Bourbon Street! Unfortunately my roomies, Tara and I missed the group so we took off on our own. It was a blast! I had my first hurricane. I can say that I'd rather not have another one of those again if I can help it. It just didn't sit well; maybe it was too sweet. Brittany and I were both exhausted so we grabbed a pizza to go and headed back to the room to eat, relax and fall asleep.
Saturday we woke up and headed downstairs for the continental breakfast provided by the hotel. (It's probably the only thing I could complain about; I just know for next time to get up earlier and find somewhere else to eat.) After breakfast we all loaded into a bus provided by Community Coffee to take us to The Houmas House plantation. We were met at the plantation by Shannon Lane. The plantation was gorgeous! Our tour guide was a perfect Southern Belle. We had a wonderful lunch provided by Global Resort Homes. Tara, who was the face of Global Resort this weekend was AWESOME! I had a blast getting to know her. (PS, please go to Global Resort's Facebook page and "like" them. Please leave them a note telling them Paula Krueger sent you!) Before we left the plantation we were given our choice of Vodka Lemonade or Vodka Sweet Tea provided by Firefly Vodka.  We also got our group picture taken with our sign provided by Uprinting.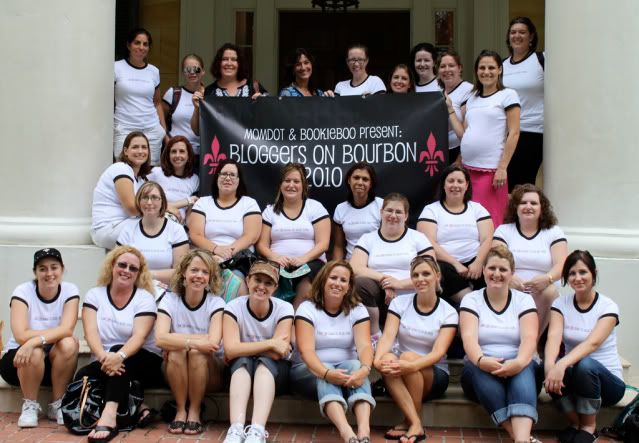 After the Houmas House tour we headed back to the hotel for free time. I tried to pack up all my swag. It ended up taking up my entire suitcase!! Then it was time to get all pretty again to head out to dinner. Dinner was provided by Collective Bias and The OpenSky Project.  We had dinner that night at Dickie Brennans Steakhouse.  Dinner was AMAZING! The steak was melt in your mouth, yum! I also tried crème brulée for the first time. I was going to go with the good old standby of cheesecake, but decided I was on a weekend of trying new things, so let's try a new food, too! I'm SO glad I did, because I loved it!
After dinner we headed back to Trisha's suite again for a Passion Party. It was definitely one of the more entertaining parts of the weekend!! We then headed back to Bourbon Street for MORE dancing! I got only 4.5 hours of sleep that night.
The next day we got everything packed and checked out of the hotel. I had to leave my stuff with the valet since I was not leaving until 8pm that night. Those that had time to kill headed over to Cafe Du Monde for some yummy beignets! I had to pick up four boxes to bring home to my New Orleans junky friend, Kelli and while I was there got another box for myself. We did some shopping up and down some streets that I didn't pay enough attention to notice the names and then went to the French Market. After shopping we had lunch at Cafe Mespero where I had a HUGE turkey and swiss sandwich and red beans and rice for my first time. Then a few of the girls had their palms read; Kim is going to be wealthy. I think we all need to become BFFs with her. 😉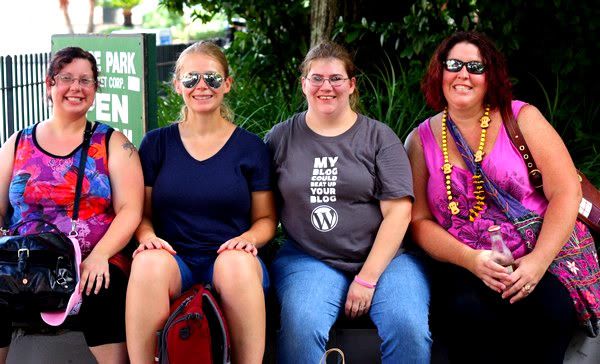 We then headed back to the hotel where I hung out with Haley the rest of the day. We walked down to Bourbon to get one last daquiri at Big Easy Daquiris. That was the strongest Pina Colada ever! Finally headed to the airport and that became a story itself! See my review of Atlanta's Wyndham Garden Hotel to hear a little more about it.
Overall I had an excellent time and can not wait to go on the next brandcation brought to you by MomDot.com!
I also want to thank my personal sponsor Country Bob's! Thank you so much for donating all that sauce for the bloggers! They all loved it!!

I would also like to mention all our swag sponsors. Expect some reviews of the products coming up over the next few weeks:
Boogie Wipes, http://www.bloggiewipes.com
Mabels Labels, http://www.mabel.ca/
EatSmart Precision Pro Kitchen Scale www.eatsmartproducts.com
OpenSky Project, www.theopenskyproject.com
Avon, www.youravon.com/lorigutierrez
American Apparel, http://www.americanapparel.com
Kids Gear wireless headphones, bags, and transmitters, www.gearforkidz.com
Ravensburger Hello Kitty Puzzlebooks, www.Ravensburger.com
Sesame Street USB, http://www.sesamestreetusb.com
Kellogs Fiber Bars, www.kelloggsfiberplus.com
First Impression,  http://www.macys.com/catalog/index.ognc?CategoryID=32298&PageID=138720816441719
Country Time, www.kraftfoods.com/countrytime
I Love Inns , http://www.iloveinns.com
SeeHere, @seeheredeals
Passion Party Divas
Kidz Bop CDs, http://www.kidzbop.com
Print Art Kids, www. PrintArtKids.com
Simplisse, www.simplisse.com/
Arbor Mist, www.arbormist.com
Breyers http://www.breyers.com/
Rayovac:  More Power for Your Money, Moms please "Like" Rayovac on Facebook  www.facebook.com/Rayovac for a chance to participate in the latest promotions and receive great coupons all year long
Incredibundles, www.incredibundles.com
Guthy-Renker www.guthy-renker.com
Marta Montenegro, www.montenegromethod.com
Toxic Fat (Dr Barry Sears), www.drsears.com
TheCarbLovers Diet, www.carblovers.com
Gaiam, http://www.gaiam.com
Bremenn, http://www.bremennlabs.com
Parking Target, http://www.parkingtarget.com
Taste of Home magazine and book, www.tasteofhome.com
Travel mouse Verbatim,  www.verbatim.com
Fling Bins, http://www.flingbins.com
Sunglass Warehouse, http://www.sunglasswarehouse.com
Mamaroo Infant Seat,  http://4momsonline.com/
FURminator deShedding Tool, http://furminator.com/
Rudi's Organic Bakery/Rudi's Gluten-Free Bakery,http://www.rudisbakery.com
Giveaways for the event:
1.       Earth Footwear www.earthfootwear.com
2.       Wubbzy DVD Set, Anchor Bay Entertainmentwww.anchorbayent.com/index/asp?p=PC_Home&PriCatID=1