Last Thursday my Mom's Group took part in Share Our Strength's Great American Bake Sale. A huge thanks to Domino Sugar for providing our group with a gift card to get supplies to help out at the sale!
Here's a little about how the Share Our Strength funds work to help hungry children in America:
Since 2003, more than 1.7 million people have participated in Share Our Strength's Great American Bake Sale, raising $6 million to make sure no child in America grows up hungry. The effort has rallied some of the culinary world's most recognized celebrities like Food Network stars and national spokespeople Sandra Lee and Duff Goldman. Here's an example of how funds work:
In rural Warren County, Tenn., where unemployment has doubled recently to nearly 16% and 55% of schoolchildren receive free or reduced-price school lunches, Warren County Child Nutrition Program (WCCNP) used a grant from Share Our Strength to expand its summer meals program in innovative ways.

In addition to serving three summer meal sites at elementary and middle schools, WCCNP delivers meals to satellite sites at apartment complexes and high school sports camps. With the help of Share Our Strength's grant, WCCNP added a second summer lunch van this year to deliver nutritious lunches daily to 300 more children at five new satellite sites.

Renee Griffith, director of summer food at Warren County Schools, said, "These kids are practically taking care of themselves. They run up to the van every day and are ready and waiting when it arrives. Some ask if we're coming on weekends."

This summer, WCCNP expects to provide lunch to 2,250 children, five days a week at 15 sites across Warren County.
For more information on Share Our Strength's work to end childhood hunger in America visit www.strength.org.
It was a lot of work, but it was great fun to see all the goodies start coming in from the moms in our group. One mom lost power for two days before the sale so she had to come bake at my house. It was great having you over Dianna!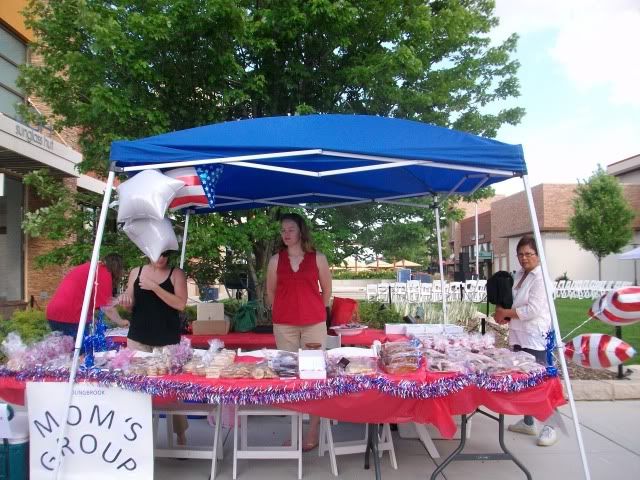 We were lucky enough to have a beautiful evening (the night before had very bad storms with tornadoes and all) at our local outdoor mall that had a summer concert series starting that night. We got to listen to the music of the Kimi Hayes band while we had our sale.
The turnout was excellent. They even allowed one mom, Nadya, to get up on the stage and announce what we were doing. We had a huge rush right after that. Our sale went from 5pm-9:30pm. During the last half hour we slashed our prices to 50% off.
We ended up making $460.32 on our sale! Our goal was $500, so we came up just a little short. If you feel like making a donation to pop our total up a little more, you can donate here. Our Bolingbrook Mom's Group page is here. The bake sale total is not posted yet, but will hopefully be up there in the next couple of days.
I personally made the cake bites and buckeyes. (Be on the lookout tomorrow for the buckeyes recipe!)
We really enjoyed ourselves and are already talking about doing the sale again next year!
Disclosure: I was given a gift card from Domino Sugar to help pay for items for the bake sale. Opinions are 100% my own.