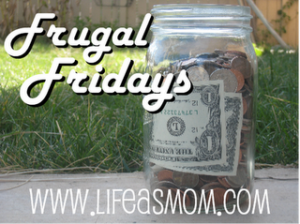 This is my seventh week taking part in Frugal Friday.(Although it's been months since I've done it!) It is put on by Life as Mom. She wants us to share a tip a week about what keeps us staying in the Black. It feels good to get back to couponing. I hadn't realized how much I was missing it until I jumped back in full force this week!
Please hop over to Life as Mom to check out more Frugal Friday posts! This week she's talking about how to live without credit cards!
CVS


CVS had some good deals on Huggies. Supposedly you were supposed to be able to get a $3 coupon if you scan your card. I got a 10% off coupon but it was not allowed to be used on sale merchandise. Bummer.
Shelf Cost $28.67
Store Discount $4.98
Coupons $4.25
Total $19.44
Total Savings $9.23 or 32.19%! (Plus I got back $10 ECB)
Target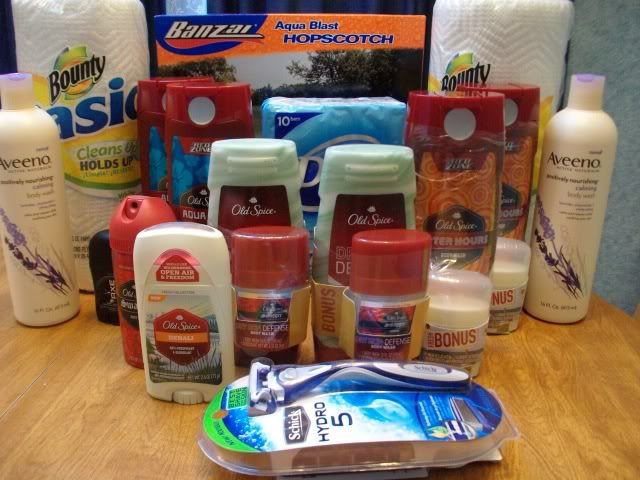 Charlie's uncle, who has helped us out tremendously with plumbing and other house things uses Old Spice body wash so I stocked him up for a LONG time to come. 🙂
Shelf Cost $80.42
Store Discount $21.15
Coupons $24.94
Rebate $7.99
Total $34.33. $30 on a gift card $4.33 out of pocket. Plus I'm getting that $7.99 rebate AND I got 2- $5 gift cards
Total Savings $84.08 or 104.55%!! (Plus $10 gift card!)
Walgreens
I did two transactions in order to get both shampoo and conditioner.
Trans 1
Shelf Cost $4.24
Store Discount $1.00
Coupons $1.00
Total $2.24
Total Savings $2 or 47.17%! Plus I got $2 RR (That I bring to Jewel to shop with)
Trans 2
Shelf Cost $34.05
Store Discount $7.09
Coupons $10.49
Total $16.47
Total Savings $17.58 or 51.63%! Plus I got $12.50 RR (That I bring to Jewel to shop with)
Jewel


I went to Jewel and planned on getting the Dairy Deal where you get a $5 CAT back. Got done checking out and no CAT. Turns out I bought the wrong size whipped cream but the manager gave me a CAT anyway. He was very sweet.
Shelf Cost $56.71
Store Discount $10.04
Coupons $34.98
Total $11.69
Total Savings $45.02 or 79.39%! (Plus I got back $5 CAT)
At the end of this week I still have $10 in CVS ECB,$5 in Jewel Cats and $10 in Target gift cards to start next week out right!
Have a Frugal week!