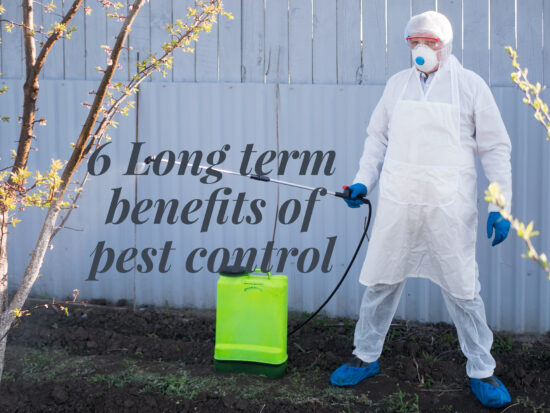 Everyone loves a well-maintained home, but there goes a lot of effort into keeping it in top shape. While many presume the maintenance activities to involve cleaning, gardening, and timely repairs, there's one aspect that gets discounted in the mix. If you haven't caught on yet, we're talking about pest control, a routine treatment for your home that is very easy to bypass! An infestation is not a common occurrence, but it also builds up slowly. If you wish to protect your home well, getting a yearly pest control should be an appointment you never skip. Today, this blog will talk about 6 benefits that your residential property, or commercial office, can enjoy in the long term.
1. Healthier Family
We all know that pests are carriers of parasites and pathogens, but these can cause more harm on an insidious level. From yourself and your children to your pets, an infestation can influence your health adversely if gone unchecked. If the infestation involves mites and insects, you stand the risk of airborne contamination. On the other hand, rodents, raccoons, and cockroaches can contaminate your food and water sources, leading to skin allergies, intestinal diseases, and more. By getting your home pest controlled once a year, you are guaranteed a healthier family free from any illnesses.
2. Greener Garden
If you have a botanical garden or lawn that you love, getting the area a pest control operation is an excellent way to prevent them from being devoured. Pests like bugs, worms, and even ants can wipe out hectares of greenery overnight. Also, they reproduce at an astonishing rate, which can result in deep burrows in the ground. This destroys your precious plants from the root and can lead to poor quality produce and sick vegetation. Having toxin-free pest control measures taken within seasonal intervals can help you evade these pesky elements, keeping your garden lush green.
3. Damage-Free Woodworks
Wooden furniture, frames, and artwork can be at high risk of corrosion from the inside. Pests such as white ants, termites, and wood-eating bugs can make tiny holes into your precious teak and oakwood pieces, eating them from the inside. What makes this aspect of housekeeping is that it is not visible at the start but only shows its tracks in the later stages. If you have detected any powdery residue from your furniture in recent days, make sure to get it checked out by a Terminix pest control team to put a stop to the damage immediately. The process may involve a thorough scan and pest control operation but will preserve all your woodwork.
4. Protected Wirings
Pests are known to gnaw and nip at everything they can get to, and plastics are not an exception. If you have read or heard about infestations, bitten wires and coatings are no surprise. However, since the fuse boxes and wirings are placed in the basement and run through the house, finding the source of an infestation can be a huge task. Once your wires are bitten off or even have their coating removed, the electrical works of your property can be at risk. Short circuits, electrical shocks, live wires, and leaks are all associated with this. Getting pest control will keep rodents at bay from your wiring.
5. Safer Water Sources
The most precious resource is also greatly in demand by pests, which is water. However, they tend to contaminate these clean sources and use them as breeding and defecating grounds. Be it mosquitoes, cockroaches, or bigger creatures, pests can lead to water-borne diseases that may cost you and your family if left unattended. If you have a barn or open water sources on your property, pest control scheduled from time to time is non-negotiable.
6. Improved Home Valuation
Most of us love to upgrade our living premises, and selling or leasing properties are a part of it. If you wish to fetch the best market value when you decide to sell your home for a better one, pests play an essential role. A pest-free home values much higher in home valuation, while any sign of damage can knock off thousands in terms of dollars in your home's selling price.
FINAL WORD
Of course, there are a lot more benefits that you can take advantage of, but the primary ones as mentioned above can act as a huge motivator for homeowners. If you haven't already started getting your home scanned and safeguarded, you can start right away. We hope these give you more insight into scheduling your pest control appointment with the experts today!