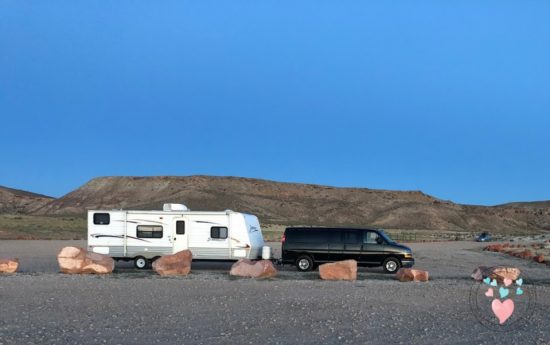 We have been dreaming of getting an RV of some type for two years. One of the biggest hurdles we have is we are a family of 8. We would love a fifth wheel but in order to make that happen we'd have to get a truck, trailer, and we'd have to drive behind in a second car everywhere we go since finding a pick-up to fit 8 would cost the price of a house. When baby number six was coming along we had to get a bigger vehicle to fit everyone so we made sure that it would be a vehicle that could fit us and had the power to tow something. We ended up getting a 15 passenger Chevrolet Express 3500. It's a beast! A little over a month ago my husband said, "Let's start looking for a travel trailer!" You bet I was online looking 10 minutes later! We had a budget of $6000 to find something we could tow, that would fit our family, and wouldn't be the money pit.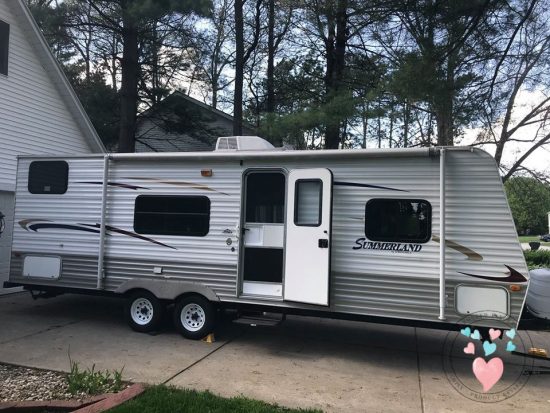 I stalked Facebook, Craigslist, RV listing sites, and RV Dealers for weeks. We visited a dealer and of course the trailer we liked the best was $15,000. Well over our budget and we did NOT want to finance. So I kept at it. We drove over an hour one way to see dumps. One had the master bedroom completely ripped out, cabinets half painted, a bathroom in shambles, and was a complete mess and they wanted over $4000. I was getting so discouraged. Then I found this trailer on Facebook. I found it 15 minutes after the owner posted and immediately jumped on it! We got our money together because when we looked at the pictures we figured "this is the one" and headed to Indiana. We set the time to meet and realized 30 minutes away that we forgot the time change. Ugh! Luckily the owners were understanding and waited on us.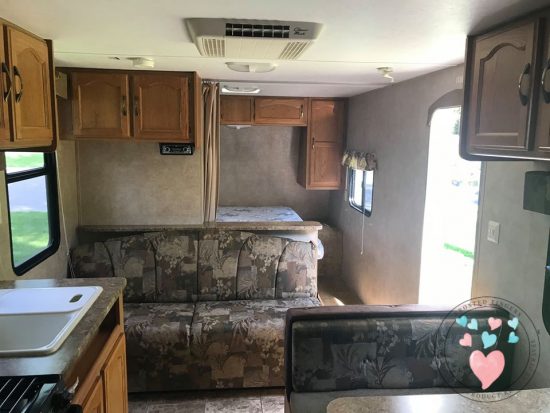 We got inside and knew this was the one. The trailer still had the new trailer smell! It looked practically brand new on the inside and was almost completely trip ready. We said yes and drove home with our new travel trailer that day. On Memorial Day, May 25, 2020, we bought our second home. Our travel trailer is a 2011 Springdale Summerland. (We will do a walk-through video soon) We immediately set work on getting ready to go on our first trip. Our niece was being baptized that coming Sunday in Arizona so we got the van ready with new tires and a trailer brake, planned our trip and were on the road by Friday morning… not even 4 full days later. We took an epic two week journey which I will share with you over the next few days. We actually have a quick trip coming up this Friday to Iowa for baseball. I can't wait to take another long journey in our travel trailer.