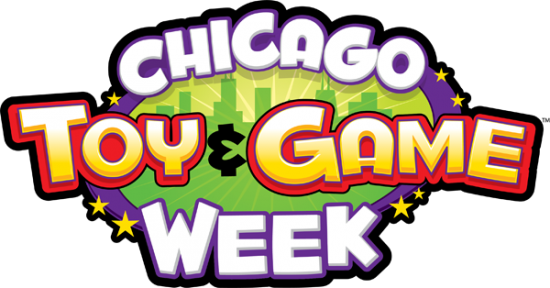 My kids look to the Chicago Toy and Game Fair (aka Chitag) every year. They start asking around May or June when we can go again. As soon as we hit October they are having a countdown to the fair. This year was no different, except this time Quinn got in on the excitement as well. She's 3, almost 4, and has been going to Chitag since she was still floating around in my tummy. This year I swear they planned the whole fair around her. She had a blast and 75% of her Christmas list was formed around what she found there!

First we stopped by the Peg Perego booth and Quinn had a blast trying to figure out how to drive the little tractor. I'm surprised they had any walls left after she got done! Did you know they have an outlet store in Indiana? If you're ever in the area, stop by for great deals on refurbished units!
One of her favorite stops was Goliath Games. She's always loved Pop the Pig and now she fell in love with Greedy Grannie and Catch the Fox. Those two made it to the Christmas list! She wanted to stay at their booth the whole day; it was very hard to pull her away!
The big kids did get to play one game! We had a good time playing Ice Cool from Brain Games. You have to fling penguins from room to room and not get caught by the catcher. It was fun and I won! 😛

Of course no day is complete without bottle flipping according to my kids! Quinn did land it at least once, but she never got to Kap-It.

Last, but not least, we had a lunch with Star Wars characters. Quinn was scared to go up to them but really wanted to. She did finally go give a high five to this Storm Trooper. She wouldn't stand next to him for a picture without someone with her.
The boys ended up leaving us for a while to watch the yo-yo championship while we let Quinn play games. The whole family enjoyed the fair and can't wait to go back next year. If you went to Chitag this year, what was your favorite part?