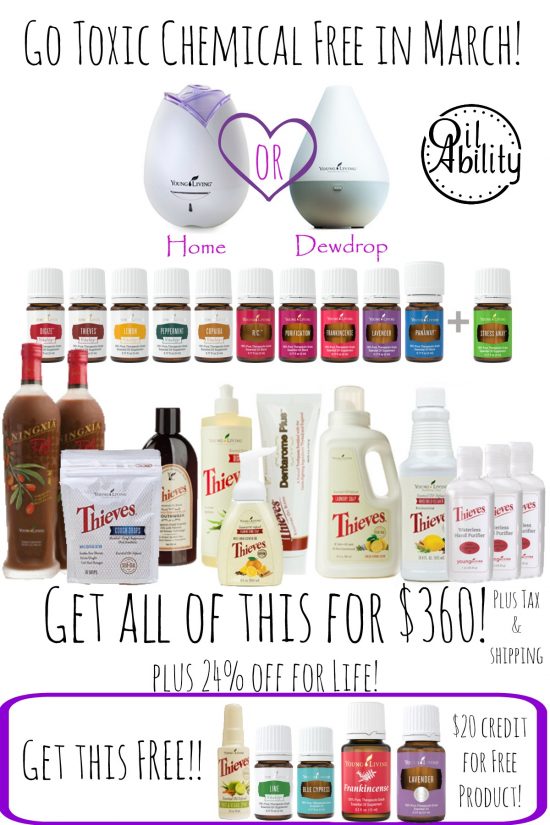 Did you know that the average person is exposed to around 300 toxic chemicals per day? The average woman applies 80 before breakfast!! That includes shampoo, conditioner, soap, hair spray, make-up, and deodorant. Due to my son's allergies we have switched out all the products in our home with Young Living Essential Oil products.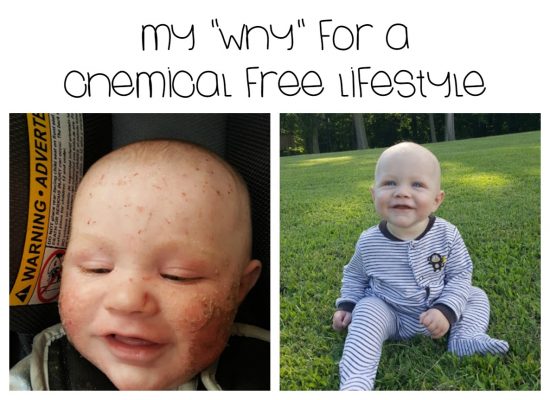 My husband doesn't even remember our son's face being that bad. I do. I remember wanting to cry every single day when I had to see his face peeling off! Since we've made these changes, his issues are mostly under control now.
Not only do I feel better about what products I'm using around my children, I am earning a living by using these products and sharing with my friends! You can see the kinds of income available to those that run Young Living as a business here. (I am currently a Silver!)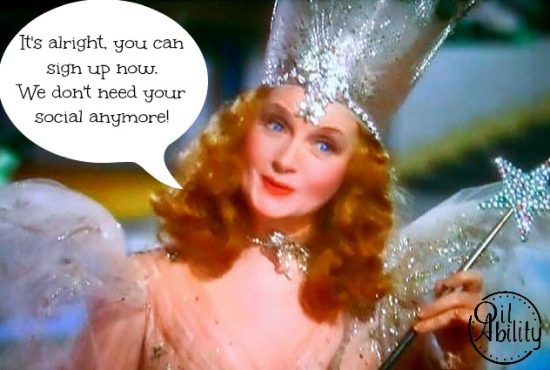 Not everyone that uses Young Living products has to sell! I would love to just share oils and product with you! As of March 1, 2017, you no longer need a Social Security number to join Young Living. Should you earn a check, though, they will not release it until you go in and enter your number, just like for a regular job!
Let me give you a run down of my day in Young Living products so you can get an idea on how you might want to use them in your home:
Wake up
Brush my teeth with Dentarome Plus Toothpaste
Wash face with Satin Mint Facial Scrub (a few times a week)
Wash hair with Lavender Shampoo
Wash body with Morning Start Bath Gel
Use ART Facial cleansing system after shower
Use AromaGuard Mountain Mint Deodorant
Apply Release Essential Oil
Take these supplements:

Master Formula
Super B
Super C
Inner Defense
Ningxia Red

Diffuse oils during the day for mood, concentration, immune support
Clean my house with Thieves Household Cleaner
Wash my hands with Thieves Foaming Hand Soap
Wash my dishes with Thieves Dish Soap
Run the dishwasher with Thieves Dishwasher Soap
Wash my clothes with Thieves Laundry Detergent
Before bed:

Take Life 9 Probiotic
Apply Progessence Plus
Diffuse more oils to promote a good night's sleep
As you can see, there is pretty much something for everything you can use in your house! If you're ready to make some amazing changes in your home, you may want to check out this deal I put together. It helps you switch out everything in your home to a more chemical free living in one order! Here's what you need to do:
Go to OilsForSeven.com and click on Become a Member.
1)You're going to sign up for Young Living with a Premium Starter Kit.
2) Choose the Dewdrop or Home Diffuser (you may have to scroll to the right to find the Home Diffuser)
3) Add a Custom ER order with these items:
Thieves Foaming Hand Soap
Thieves Essential Oil Cough Drops
Thieves Fresh Essence Mouthwash
Thieves Dish Soap
Dentarome Plus Toothpaste
Thieves Laundry Soap
Thieves Household Cleaner 14.4 oz
Thieves Waterless Purifier 3 pk
Ningxia Red 2 pk
4) Check out and enjoy going chemical free in March!
Please let me know if you have any questions and I will gladly help you!!