This post is in collaboration with Balance Your Plate and Stouffer's. As part of the collaboration, I received product and incentives in exchange for participating in the program.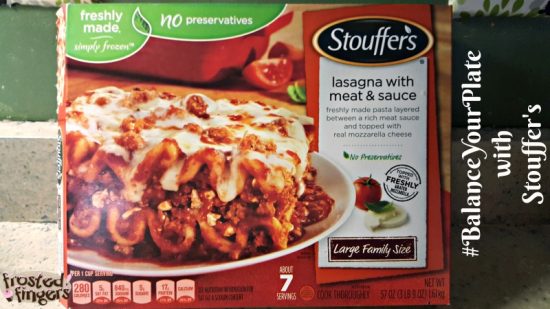 We are a family constantly on the go. My kids LOVE lasagna, but taking the time to put it together PLUS sides is not something I always have time to do. We got a Stouffer's Family Size Lasagna with Meat & Sauce to feed our family last Sunday. We had 3 members of the family come stay with us for a while, so we went from a family of 7 to 10 in one day. YIKES! 🙂 Luckily the Family Sized Lasagna worked great for us.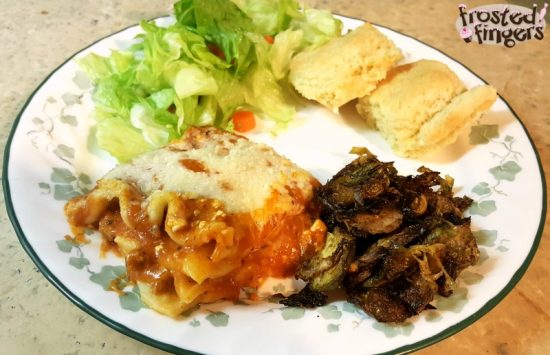 While Stouffer's is made with great, real ingredients, I don't just want to slap a slab of lasagna down on my kids' plates and say "dinner!" I like to balance out the lasagna with some vegetables, a salad, and some kind of bread. This time I made balsamic Brussels sprouts and buttermilk biscuits from scratch along with a small salad. The kids don't like the Brussels sprouts, but my husband and I do. We all love the buttermilk biscuits, though.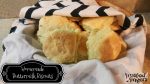 Homemade Buttermilk Biscuits
Ingredients
2

cups

all-purpose flour

1/4

teaspoon

baking soda

1

tablespoon

baking powder

1

teaspoon

pink Himalayan salt

1/2

cup

sugar

6

tablespoons

butter

very cold (I use Kerrygold)

1

cup

buttermilk
Instructions
Preheat oven to 450

Combine all the dry ingredients in the bowl of a food processor.

Cut the butter into chunks and pulse in food processor until the flour resembles course meal.

Add the buttermilk and mix just until combined.

Turn the dough out onto a floured board.

Gently pat the dough out until it's about 1/2" thick. Fold the dough about 5 times, gently press the dough down to 1" thick.

Use a round cutter to cut into rounds.

Gently knead the scraps together to make a few more.

Place the biscuits on a cookie sheet- if you like soft sides, put them touching each other, otherwise place 1" apart for crusty sides.

Bake for about 10-12 minutes until they are a light golden brown on top and bottom.
I've made these biscuits for biscuits and gravy before, too. They are excellent with that or as a side for your dinner. The Brussels sprouts are super easy to make. I flip-flop between making this side as green beans or sprouts.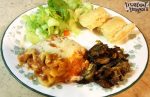 Balsamic Brussels Sprouts
Ingredients
Small bag of Brussels Sprouts

2

tbsp

Balsamic vinegar

2

tbsp

Extra Virgin Olive Oil

1

tsp

Garlic powder

2

tbsp

Parmesan cheese

grated
Instructions
Preheat oven to 350

Slice Brussels Sprouts into thin strips.

Add all ingredients to a gallon sized zipper bag and shake.

Spread out all ingredients on a cookie sheet.

Bake for about 15 minutes.
When making as green beans, just substitute the green beans with the sprouts. Simple and delicious! This side is a hit whenever we have guests over.
We all know the holidays are often filled with sweets and treats, but it's still important to balance your plate at mealtime and make sure your family is getting the nutrition they need. As part of a Nestlé educational campaign called Balance Your Plate, Stouffer's is helping families create delicious and nutritious meals that incorporate both frozen and fresh foods. I love that Stouffer's has recently announced its new "Kitchen Cupboard" commitment. This new initiative focuses on shortening and simplifying recipes that only include ingredients that consumers can recognize and can find at home, like vine-ripened tomatoes, freshly made pasta, and real mozzarella. With Joey's allergies, I need to watch what I'm serving him and I appreciate a company that wants to make it easy for me to read it's labels!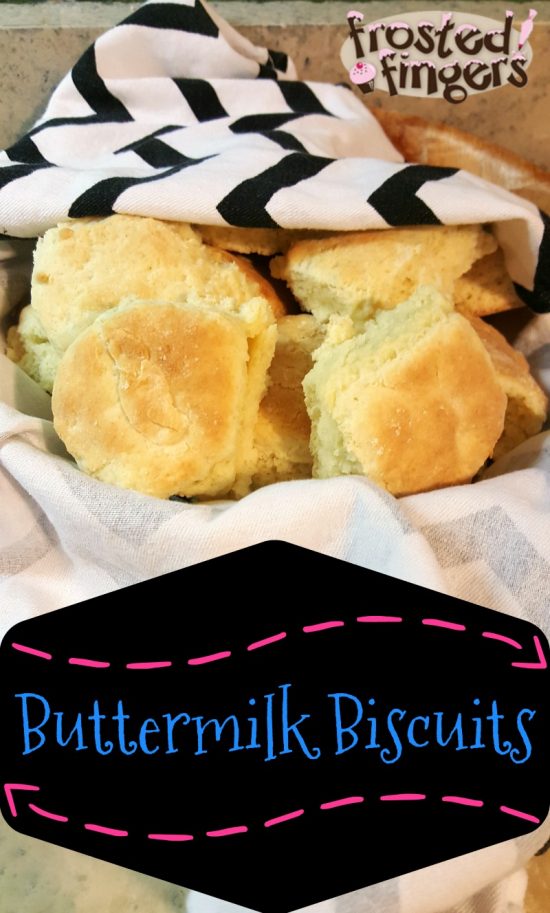 Did you know that Americans only balance their meals 7 out of 365 days a year? That's crazy!! I know I do my best for my kids but I don't usually hit the recommendations, either. Balance Your Plate is an educational program designed to help you put together delicious and nutritious meals that incorporate both frozen and fresh foods. I hope I gave you a few ideas to help Balance Your Plate. You can also get some other amazing ideas on the Stouffer's site.
What's your favorite side to serve to Balance Your Plate?