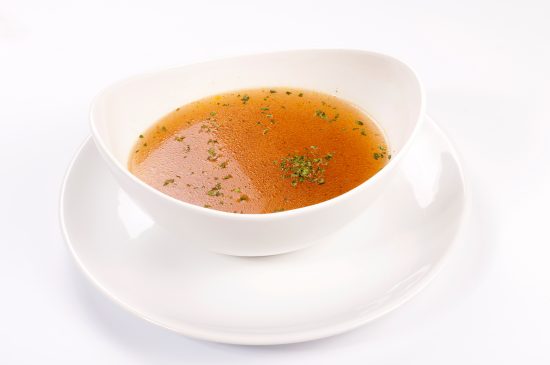 If your digestive system has been feeling a bit sluggish lately or you're looking for a way to jump-start weight loss, going on a cleanse can be extremely beneficial. While there are several ways to cleanse your body, like a green juice cleanse, a bone broth cleanse is often the easiest to stick to and the healthiest for your body, as you're allowed to add vegetables and herbs to the soup. Here are a few of the top benefits of a bone broth cleanse.
Healthy Skin
When you're not eating a healthy diet or not getting enough hydration, your skin suffers. Dry, dull skin is a symptom of an unhealthy diet, but you can easily take steps to correct the problem to get your skin's natural glow back. In addition to staying hydrated by drinking water and white or green tea, try going on a bone broth cleanse for a few days to enjoy the benefits for your skin. Bone broth is packed with collagen, which gives your skin its elasticity and helps to reduce wrinkles. Even after a few days of eating bone broth based soups, you might begin to notice healthier skin. For lifelong benefits, continue to incorporate bone broth as a regular part of your diet.
Improved Digestion
When you overload your body with heavy foods like red meat and refined carbs, your digestive system struggles to keep up. Most Americans aren't getting enough fiber, which further taxes your digestive system. If you often feel bloated throughout the day and you still feel full hours after consuming a meal, it's likely that your digestive system could use some help. Warm soup with a bone broth base is excellent for letting your system have a break, and the combination of liquids from the broth and fiber from vegetables like carrots and kale will aid your digestive system in getting back on track. Bone broth is especially helpful for digestion, since the collagen in this type of broth helps to repair the GI tract lining. The key is to ease back slowly into solid foods and to make sure that you're getting enough fiber after you've finished the cleanse.
Give Your Body a Boost
While short juice cleanses can do wonders for your body, they're not great for more than a few days because they lack protein and fiber. This can lead to awful mood swings and feelings of weakness throughout the cleanse. If you're hoping to do a cleanse of five days or more, bone broth soup is the way to go. The bone broth is filled with important minerals that our bodies often lack, and you can supercharge the soup by adding plenty of fresh vegetables. By going on a bone broth cleanse, your body will be able to rejuvenate by receiving electrolytes, phosphorous, calcium, magnesium, and collagen. After a few days of stocking up on these vital minerals, you'll likely have more energy and you'll be ready to ease into a sustainable healthy diet.
How to Get Started
Once you've decided to go on a bone broth cleanse, you'll need to stock up on high-quality bone broth from Au Bon Broth. Find a few soup recipes that you like online, and prepare them ahead of time. When you've prepared plenty of meals for the week, it's easier to stick to your goals rather than having to worry about meal preparation when you've just gotten home from work. Bone broth soups can be stored in the fridge, and you can bring a container with you to work to reheat the broth for lunch. Although cleanses can be very challenging to adhere to, try to vary the recipes as much as possible so you don't get bored. There are nearly endless options for healthy vegetable soups, so try to get creative and experiment with flavors that you think you'd enjoy.
After the Cleanse
After you've successfully made it through your bone broth cleanse, you're likely to be amazed by the results. By giving your digestive system a break by only eating gentle foods, you'll probably feel light and notice that the bloated feelings have gone away entirely. Your skin might feel smooth and look more vibrant, and you'll probably end the cleanse with increased energy from sticking to a healthy diet. To keep things going on the right track, continue to incorporate bone broth soups in your diet for at least one meal a day for a while. Incorporate soft solid foods, like yogurt with raspberries and chia seeds or oatmeal. Changing your diet to whole foods is the key to staying healthy for life.