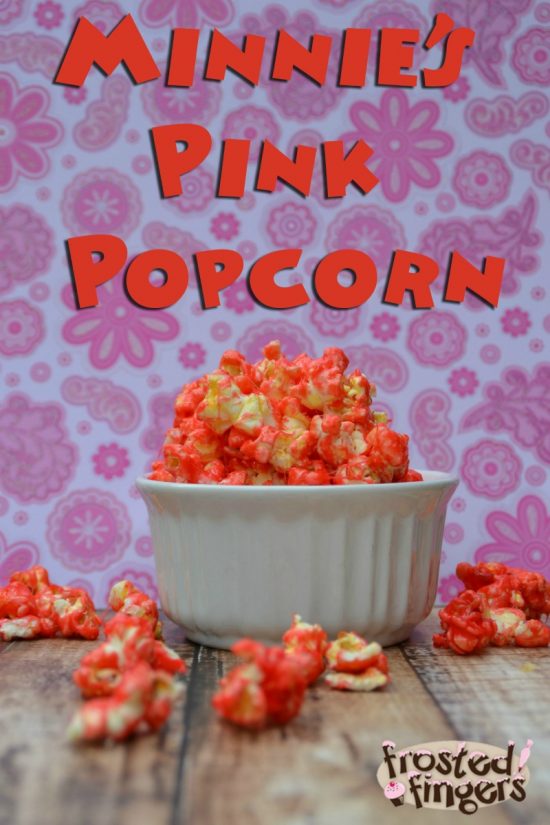 One thing Walt Disney World does well is make sure that there are allergy friendly foods for everyone that needs them to eat. One of the gifts that Disney gave us was a Get Cooking with Mickey & Friends Allergy Friendly Cookbook. We picked out one of the easiest recipes in the book to give a try. We made Minnie's Pink Popcorn and it was a big hit with the kids! It takes less than 5 minutes to make and it's a fun little snack!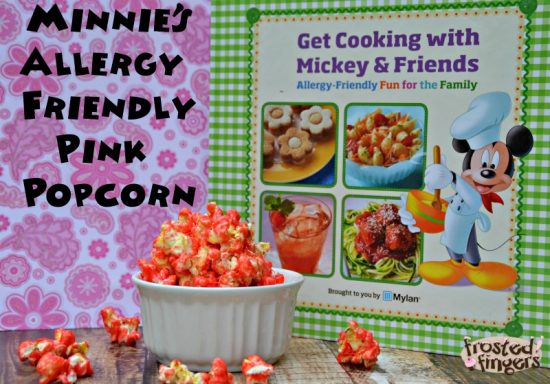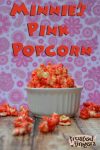 Minnie's Pink Popcorn Recipe
Ingredients
Bag of popped microwave popcorn

about 6 cups

2 1/2

Tbsp

butter

18

large marshmallows

3

Tbsp

cherry flavored geletan powder
Instructions
Put the popped popcorn in a large mixing bowl, removing any unpopped kernels.

Melt the butter in a medium-size saucepan over medium-low heat. Add the marshmallows and stir continually until they melt and turn into a smooth sauce. Stir in the cherry gelatin powder. Use a plastic spoon for this step because the pink gelatin can stain a wooden spoon.

Immediately pour the pink marshmallow over the popcorn, and gently stir to evenly cover the popcorn.

Let the popcorn cool for a few minutes before serving.
Allergy substitution note:
In case of milk allergy, use dairy-free margarine in place of butter. Some marshmallows contain eggs. Check the ingredients in case of an egg allergy.
I really like that the book gives you notes to look out for if your child has certain allergies. So far we are lucky enough in our family that we don't deal with food allergies, but we don't know yet what is causing Joey's face eczema so we may be headed down the food allergy path soon. At least I know that when we visit Disney we will be welcomed by them and they will help us out with allergy-friendly foods.
Another book that goes along with the cookbook is Show-and-Tell Scout. It's a cute book that explains to your kids about food allergies and how classmates may have them and how to deal with it.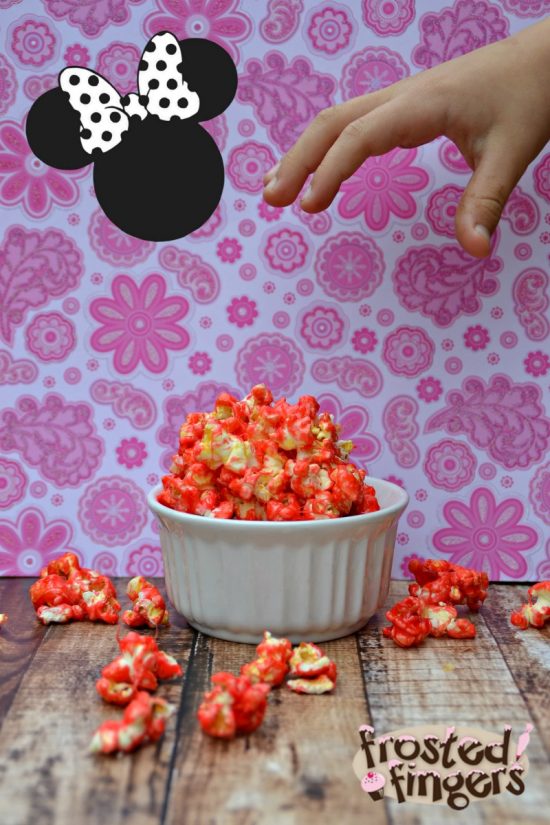 If you're not careful, when you make this popcorn someone may try to steal it while you're busy taking pictures! If you are looking for kid-friendly AND allergy-friendly recipes, the Get Cooking with Mickey & Friends cookbook is a great place to find them!
Note: This post may include affiliate links which help to keep my site running and does not cost you anything extra to purchase the items above. Also, the two books were given to me at the Disney Social Media Moms Celebration. All opinions are my own.