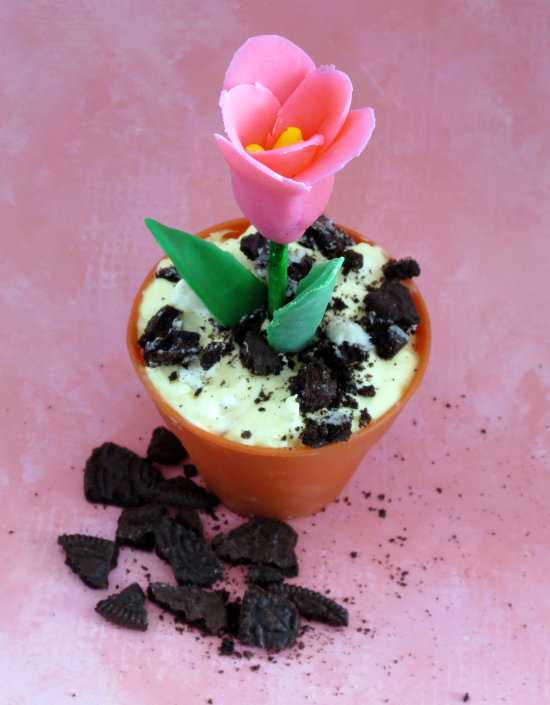 Do you know what Sunday is? Besides my birthday (and my husband's) it's the first day of Spring! Hooray! Time to let the kids outside to play during the day without bundling up in 20 layers. Reading our family reading out on the porch. Letting Quinn run and play in the backyard where she loves to be. She is such an outside lover! She also knows how to escape the house on her own so we need to keep an eye on her at all times.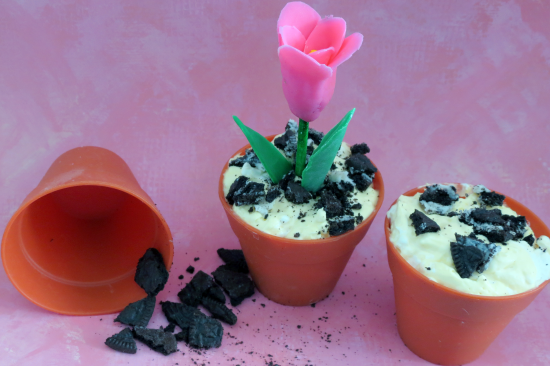 In order to help celebrate Spring, I'm sharing a recipe for this cute fondant flower in dirt pudding. Dirt pudding is a huge favorite in my house, especially with Oreo cookies being a main ingredient in the recipe. Maybe I'll make some more for my husband for our birthday on Sunday since Oreos are his favorite.
Celebrate Spring with Dirt Pudding
Cook Time
2
hours
30
minutes
Total Time
2
hours
30
minutes
Ingredients
Dirt Pudding Ingredients
1

pkg. French Vanilla JELL-O Pudding Mix

1¼

cup

Milk

½

cup

Powdered Sugar

4

oz.

Cream Cheese

2

tbsp.

Butter

6

oz.

Whipped Topping

½

pkg. Oreos
Fondant Flower Ingredients
Wilton Pink Fondant

Wilton Green Fondant

Wilton Yellow Fondant

optional
Tools
Silicone Pot Mold

Baking Rods/Wooden Sticks

Small Paint Brush

Green Food Coloring

Gel

Fondant Ball Rod
Instructions
Using electric mixer, combine pudding mix and milk. Add butter, powdered sugar, and cream cheese. Mix on medium to high speed until evenly distributed. Set aside.

Crush Oreo cookies into small pieces. Add handful of crushed Oreos into bottom of each silicone pot mold. Layer with pudding mixture. Continue to alternate until full.

Place in refrigerator for 20-40 minutes.

Using a thin paintbrush, cover wooden baking rods with green food coloring gel. Place in refrigerator for 1 hour to speed drying process.

Roll out a thin layer of pink fondant. Use small spoons as petal templates. Peel petals from spoons. Add petals, one by one, to stem (dried green wooden rod) and fold backward slightly. Use a touch of water (mixed with corn starch) to hold petals together. Allow each petal a few minutes to dry before adding additional petals.

Optional (you can also use pink fondant for this step): Pinch off 3 tiny pieces of yellow fondant per flower. Roll gently until long and thin. Add a touch of water (mixed with corn starch) to bottoms and place inside each flower.

Roll out a thin layer of green fondant. Using a knife, cut out long, thin leafs. Gently press leafs to create curves.

Stick flower into each silicone pot mold, in the middle of the dirt pudding. Gently insert leafs. Serve and enjoy.
How do you celebrate Spring? I think as long as the weather holds next week I'm going to get the kids outside to do some Spring cleanup and start planting some flower seeds. A friend of mine is supposed to come over and help me plan a garden since I'm really clueless. I can't wait for the warm sun on my neck and children giggles coming from outside!