I read the whole Maze Runner series and can't wait to see The Scorch Trials! I need a date night with hubby SOON so maybe we can go to see the movie if we can ever find a sitter.
The Maze was just the beginning! Maze Runner: The Scorch Trials is in theaters now
In this next chapter of the epic "Maze Runner" saga, Thomas (Dylan O'Brien) and his fellow Gladers face their greatest challenge yet: searching for clues about the mysterious and powerful organization known as WCKD. Their journey takes them to the Scorch, a desolate landscape filled with unimaginable obstacles. Teaming up with resistance fighters, the Gladers take on WCKD's vastly superior forces and uncover its shocking plans for them all.
Starring: Dylan O'Brien, Kaya Scodelario, Thomas Brodie-Sangster, Giancarlo Esposito, Aidan Gillen, Ki Hong Lee, Barry Pepper, Lili Taylor, and Patricia Clarkson
Screenplay By: T.S. Nowlin, based upon the novel "The Scorch Trials" by James Dashner
Directed By: Wes Ball
Rated PG-13
Maze Runner: The Scorch Trials and Quiznos Partnership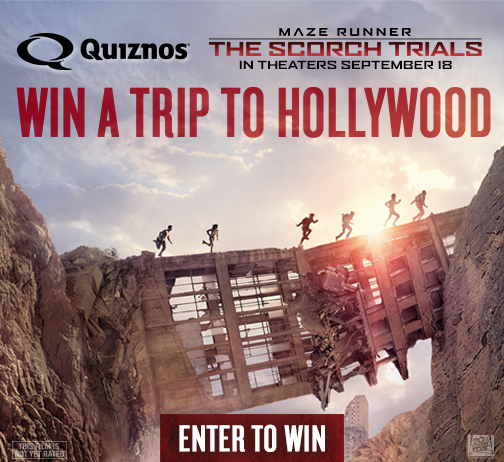 Quiznos and Maze Runner: The Scorch Trials are rolling out the red carpet for fans through a new sweepstakes launched this month. Fans can enter at toasty.tv/scorchtrials/ for a chance to win a VIP trip to Hollywood, home theater, and much more! Sweepstakes ends October 12.
Quiznos, home of the hot toasted sub, is also putting guests' tolerance for spice to the test! Their newest culinary creation, the SatisFIRE, incorporates two varieties of hot peppers and draws inspiration from the brand's new partnership with 20th Century Fox's film Maze Runner: The Scorch Trials, in theaters now.
The SatisFIRE features Quiznos signature slow-roasted pulled pork, honey ham, smoky bacon and melted cheddar cheese, topped with sautéed onions, fresh jalapeños, pickles, lettuce and tomatoes. A house-made Serrano pepper aioli finishes it off, all piled between two slices of fresh Ciabatta bread. For a limited time only.
Follow Quiznos on Twitter and Like them on Facebook.
Visit all Maze Runner: The Scorch Trials websites – #ScorchTrials
Visit the Official Website
Like on Facebook
Follow on YouTube, Twitter and Instagram