This post has been sponsored by Pampers but all opinions are my own.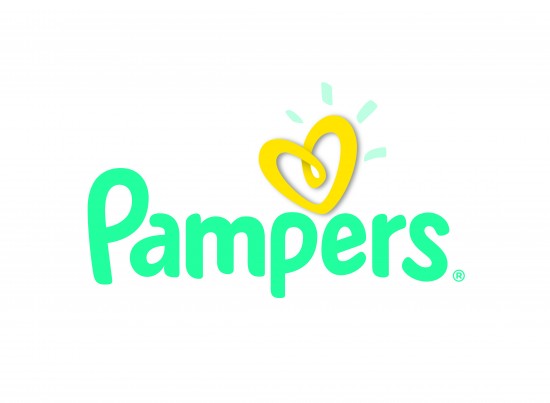 We are still a little while off from potty training BabyQ since she's only 16 months old, but I have been around that block 3 times before with my other kiddos. BabyQ and I were able to share some potty training excitement with some friends last week, though, when we had a potty training party at our house.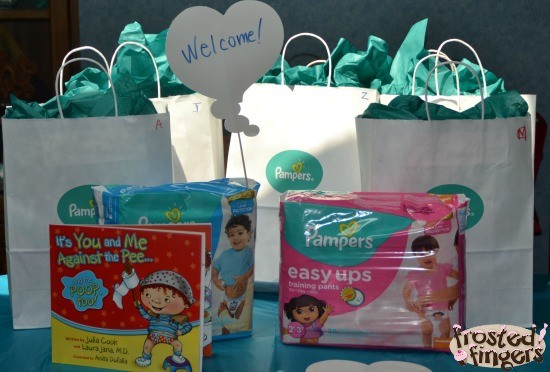 We welcomed four ready to potty train friends and their moms and siblings to play for a little while. Each potty training friend got to bring home one package of Pampers Easy Ups® and the book It's You and Me Against the Pee… and the Poop too!
We planned on playing toss the ball in the potty seat but the kids were more interested in playing with the kitties.

Overall the kids really had a good time and were excited to bring home their goody bags. We even had potty time success with one of the boys that attended!
What's funny is that I remember potty training my oldest, but not really the other two. (Sleep deprivation maybe?) Buddy had turned 3 in May and we didn't potty train him until August. It worked well waiting for him to be ready. For the first couple of days I would bring his potty seat in the living room and let him watch tv on it so that he'd just go in the potty when he felt the need. After that I moved it back to the bathroom and set the kitchen timer to every 15 minutes. We would try every time the timer went off. He would get one skittle for pee and 2 for poop. It took about one week to fully train him and we wore training pants for a few weeks longer just to be sure.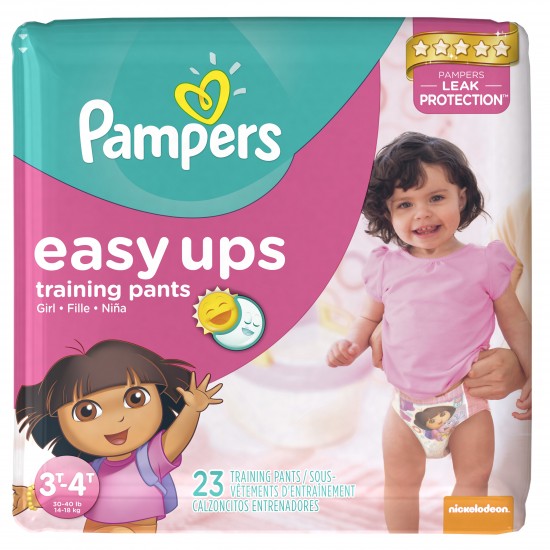 Training pants such as Pampers Easy Ups can help the diaper-to-underwear transition by allowing potty-training toddlers to set aside their diapers and wear something with more of an underwear-like design that still helps keep accidental messes off clothing, bedding and other surfaces no matter whether they happen at home, on-the-go or overnight. Pampers Easy Ups have fewer leaks than the other leading training pant to help simplify and improve the overall potty training experience. Pampers Easy Ups have an absorbent core that holds 25% more than the other leading training pant to help ensure little ones remain dry. Plus, with up to 12 hours of protection, it works during the day AND night, enabling toddlers and moms to confidently and completely transition from diapers towards underwear. Pampers Easy Ups® have fun Thomas & Friends® designs for boys and Dora the Explorer® designs for girls. They have graphics that fade when wet to help little ones learn and super-stretchy sides to make them easy to pull up and down when using the potty. They are available for Boys and Girls sizes 2T/3T through 4T/5T.

She still does love that potty seat. A week later and she's still carrying it around with her with a baby doll and she puts her baby on the seat. Hopefully with all the doll practicing she's getting she will be ready to go when it's time. It sure would be nice if she trained right at 2 so that I wouldn't have TWO in diapers! At what age did you potty train your little ones? If you haven't yet, do you have any potty training questions?
Remember you can always submit a review on Pampers.com to earn Rewards points. You can also follow Pampers on Twitter and Facebook for more potty training tips.