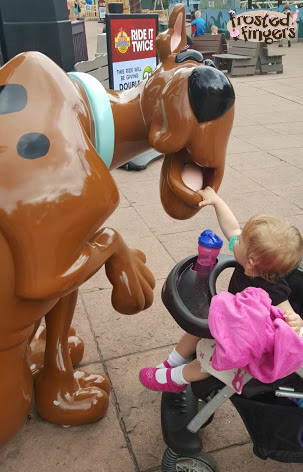 I loved watching Scooby-Doo when I was younger. I grew up watching and reading mysteries, so it was a great cartoon for me. My kids are developing a love for Scooby-Doo as well. Little Man still gets scared sometimes when watching the shows, but the other two big kids like watching it. As you can see above, BabyQ was loving on Scooby at Great America on Friday. If you'd like to introduce your kiddos to Scooby-Doo, there is an awesome playlist on YouTube that currently has 16 episodes loaded and will possibly get more, so be sure to subscribe to the channel!
You can even see some playlists for Batman Unlimited and DC Super Friends:
Batman Unlimited
DC Super Friends
If you are a fan of any three of these shows, you can win one of five mystery gift baskets worth a minimum of $50 and will be picked by the staff of Warner Bros and DCKids. All you have to do is fill out the Rafflecopter giveaway widget below.
My favorite characters from Scooby-Doo were always Scooby and Shaggy. Do you have a favorite Scooby-Doo, Batman Unlimited, or DC Super Friends character?
Note: I was compensated for this post but all opinions are my own.