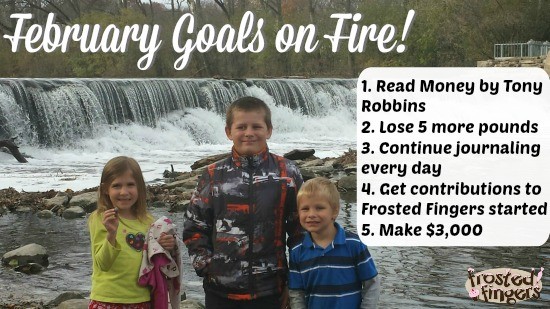 Back in December my husband and I decided to sign up for business and life coaching through Life On Fire. One of our monthly exercises is to make 5 goals you intend to smash for the month. If you want, you can check out Nick Unsworth's podcast about goals on fire. I achieved all of my goals for December. Last month, however, I had a change of plans after I set my goals. I achieved some of them, while others I put on the back burner. Here's a recap from last month:

1. I decided not to work on another venture right now since I'm still working over here on Frosted Fingers and I'm helping Charlie get Delivering the Project off the ground.
2. I actually lost 7 pounds, yay!!
3. Make all of our Coaching Calls- Until the last two weeks of the month, I had conflicts on Wednesdays with my calls, so that didn't work out as planned.
4. I had only one week that I didn't plan ahead and that was because we were all sick.
5. I actually read 1 non-fiction book: A Mother's Rule of Life: How to Bring Order to Your Home and Peace to Your Soul
and 2.5 fiction books (just some love stories)
6. I put off doing a podcast by myself for now but will probably contribute to Charlie's once we get it running!
So, those are my goals for February up there at the top. Do you set monthly, attainable goals?
note: this article may contain affiliate links.