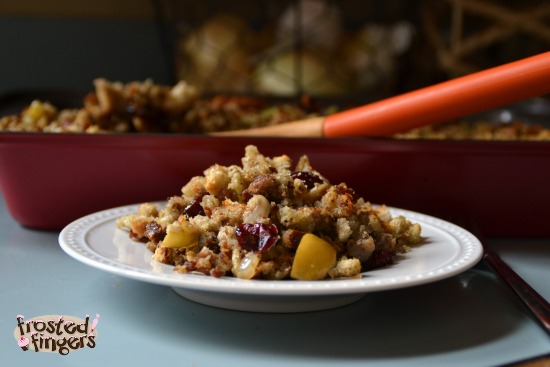 When making recipes for a big group, I need a nice size bakeware to fit my casseroles and such and I'd also like them to look pretty so that it can go directly from oven to serving. Who wants to do more dishes from transferring your food from the bakeware to a fancy dish. At the end of my holiday meals I don't want to see a dish for days! I absolutely love the new Baker's Secret Colored Metal Bakeware so that my dishes travel straight to the table and still look great. I chose to make Cranberry Pecan Apple Sausage Stuffing and I think the stuffing looks great in the Baker's Secret Bakeware, how about you?
Baker's Secret Colored Metal Bakeware Features and Benefits:
Allows for oven to table usage
Great for gift giving during seasonal times
Premium Non-stick coating
Dishwasher and Metal Spatula safe
Full Lifetime warranty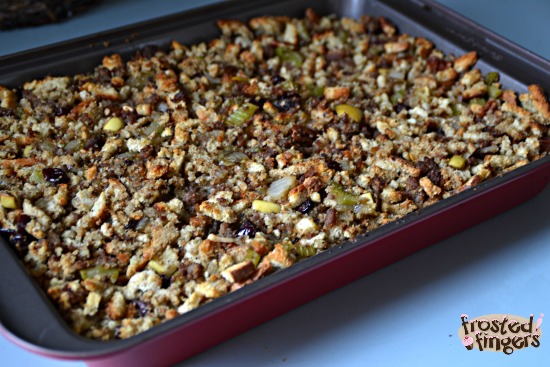 Something I also love about Baker's Secret is that it's inexpensive so you could make an awesome gift for someone using Baker's Secret and not need the pan back. Giving them a loaf of banana bread in a Baker's Secret Colored Loaf Pan would make a great Christmas gift!

Cranberry Pecan Apple Sausage Stuffing Recipe
Rating 5.0 from 2 reviews
Prep time:
Cook time:
Total time: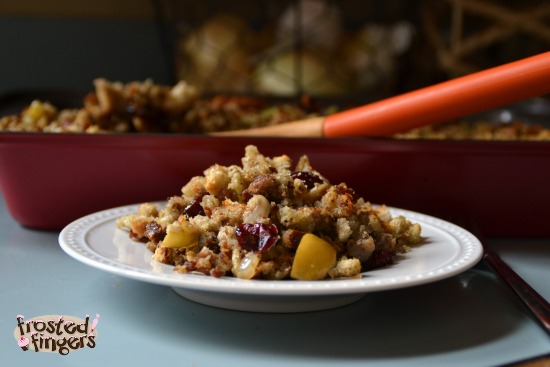 Ingredients
1 pound mild bulk breakfast sausage
4 tablespoons butter
1 yellow onion diced
1 Granny Smith apple, cored and chopped
1 cup chopped celery
1 tablespoon poultry seasoning
1 cup Cherry Cranberry Pecano
1 14 oz bag of herb stuffing
2 to 3 cups chicken stock
Instructions
Preheat the oven to 375 degrees F.
Saute the sausage in a large heavy skillet over medium-high heat until cooked through, crumbling coarsely with the back of a spoon, about 10 minutes.
Transfer the sausage and drippings to a large bowl.
Melt the butter in the same skillet over medium-high heat.
Add the onion, apples, celery and poultry seasoning to the skillet and saute until the onions are soft, about 8 minutes.
Add the mixture to the sausage, then mix in the Cherry Cranberry Pecano and stuffing.
Next add the chicken stock a little at a time until the stuffing is very moist. Be sure not to overdo it; it shouldn't be mushy.
Place in a casserole dish. (The stuffing can be made to this point 2 days before Thanksgiving, and refrigerated.)
Bake in a 14-inch oval or 9 by 13-inch rectangular casserole dish and place, uncovered, in the oven for 20 to 30 minutes, until the top is crispy and the center piping hot.
Remove and serve immediately.
If stuffing a turkey, the stuffing must be cold before being placed in the bird.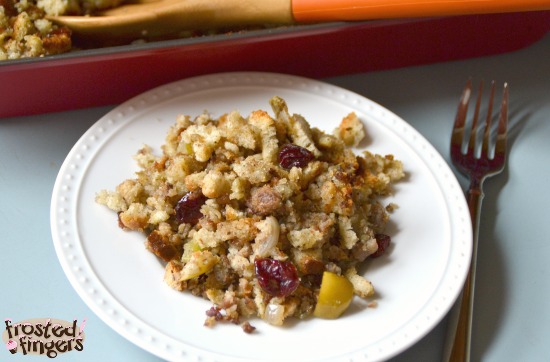 In order for you to enjoy this stuffing with your holiday meals, I'm giving away a two pieces of Baker's Secret colored metal bakeware.
Baker's Secret
Note: I was given Baker's Secret colored bakeware and a gift card in exchange for this post. All opinions are my own.