Note: This post has been sponsored by UHC, but all opinions are my own.
This week the last thing on your mind is probably trimming down, but I bet you'll be wanting to after Thursday! I know I'm ready to make some changes and I'm thinking of even starting them this week even knowing that Thanksgiving is this Thursday. I'm tired of the way I feel and look and I just want to make some changes. My husband and I are going to a conference next month and we both wanted to lose between 10-20 pounds each before then. I think I put ON weight instead of taking it off. UGH! Nothing is fitting well and I am just tired all the time.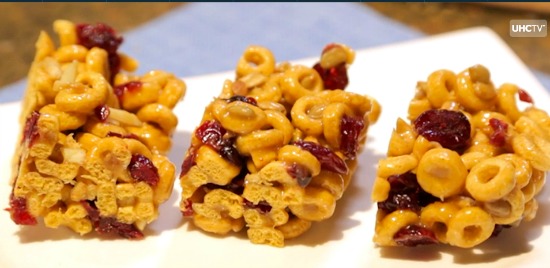 United Healthcare's UHC TV would like to help you Trim Up by giving you a snack idea: Banana Nut Cereal Energy Bars. You can watch the video on their site: http://www.uhc.tv/watchwin for the recipe. By simply watching the video you will be entered for a chance to win a grand prize of $500 and four weekly prizes of $25. Sharing the video will also get you a bonus entry. Who couldn't use some extra money at this time of the year? Along with the recipe video for the Banana Nut Cereal Energy Bars there are Thanksgiving recipes, strategies for eating at parties, and so many other tips and tricks to help you get trimmed up and stay healthy.
What kind of healthy snacks do you like to eat to help you trim up? This video only lasts until December 19, so get over to UHC TV and watch it now.