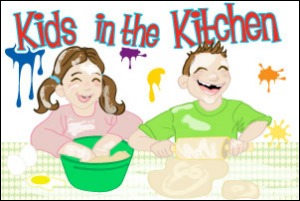 Homeschool science is definitely giving me some stuff to write about for Kids in the Kitchen on Fridays! We didn't actually do this experiment because my sink was full of dishes, but it can be done in a large bowl, your kitchen sink, your bathtub…anywhere you can hold some water. Learn below how to make a soap powered boat.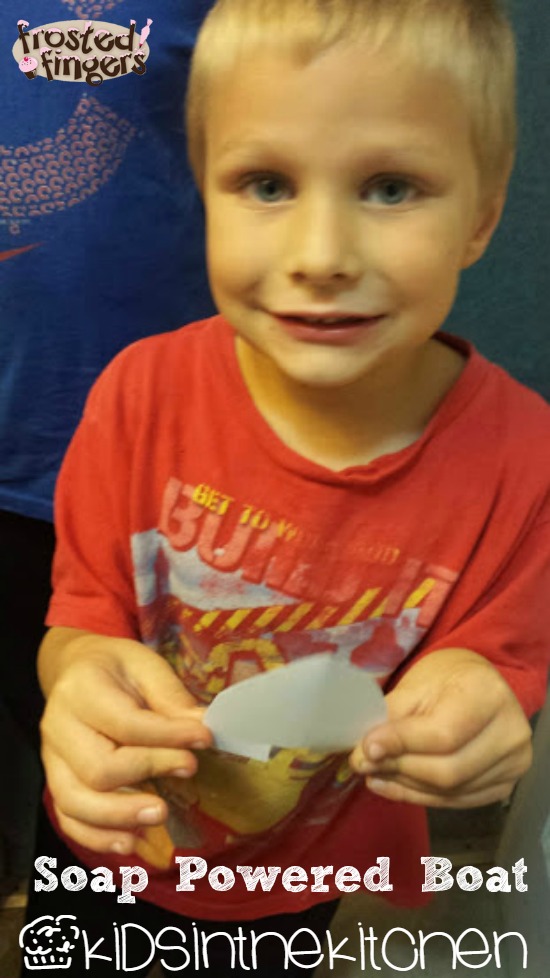 Soap Powered Boat: Kids in the Kitchen
Ingredients
1

index card or bread tag

scissors

Sink of water or large bowl or baking dish

Liquid Dish Detergent
Instructions
Cut out your index card in the shape of a boat with a small notch made at the back.

Place the "boat" gently on the water in the baking dish.

Pour a little detergent into the notch at the end of the boat if using paper.

If you are using the bread tag, take a small amount of dish soap on a toothpick and touch it to the water in the whole of the tag.
If you wish to repeat the experiment you need to wash out the baking dish or sink carefully each time you use detergent, or your boat won't go.
What you'll learn
Your boat should zip across the water. Water molecules are strongly attracted to one another and stick close together, especially on the surface. This creates a strong but flexible "skin" on the water's surface that we call surface tension. Adding soap disrupts the arrangement of the water molecules and breaks the skin, making the boat move forward.
Come join my co-hosts, Melinda of LookWhatMomFound, Kate of Busy Bee Kate. Jeannette of EcoIncognito and Sara at Sensibly Sara, each week linking up a post, new or old, that feature the theme Kids in the Kitchen. It doesn't matter what you are doing as long as you are doing it together, enjoying it and learning something along the way.
preparing healthy snacks
discovering a local restaurant that your kids love
You'll find so many more ideas on the #KidsintheKitchen Pinterest Board.