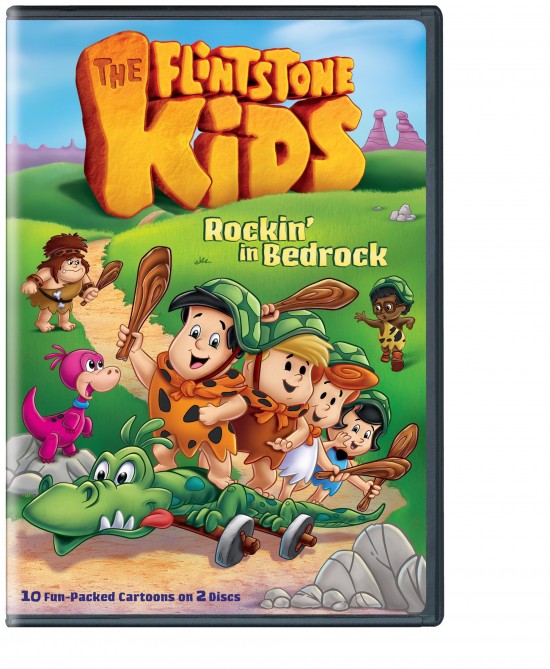 If you're like me, you grew up watching The Flintstones and Flintstone Kids. I absolutely loved watching the Flintstones as a kid! I always wanted to be Wilma when I grew up! This past Tuesday The Flintstone Kids: Rockin' in Bedrock came out on DVD. I was so excited to get a copy to review with my kids. I love that I can give them a piece of my childhood to watch. I can't believe this originally aired between 1986 to 1988. I was 8-10 during those years.
Before Fred and Barney married Wilma and Betty, and became stars of the enormously popular animated primetime series The Flintstones, they were fun-loving kids who hung around together in the town of Bedrock.The Flintstone Kids follows their escapades as adorable schoolchildren and introduces viewers to some new characters, including Rocky Ratrock, Dreamchip Gemstone and Miss Rockybottom, as well as family members Ed and Edna Flintstone, Robert Rubble, Doris Slaghoople and many others.

The Flintstone Kids: Rockin' in Bedrock features 10 captivating episodes from the adorable animated series. In Curse of the Gemstone Diamond, Fred's lookalike steals Dreamchip Gemstone's precious diamond. Fred and Barney become babysitters on Dusty Disappears. In Freddy's First Crush, Fred develops a crush on a substitute teacher in school. In The Bad News Brontos, the gang forms a baseball team. When the father and son picnic comes up, Fred loans his grandfather to Barney when his own father is unavailable in Grandpa for Loan. In The Rock Concert That Rocked Freddy, Fred promises tickets to a big rock concert but fails to deliver. These and several other entertaining adventures are included on the release.
My kids are LOVING watching The Flintstone Kids: Rockin' in Bedrock over and over and over again. You can purchase your own copy on Amazon
; it is currently $17.78. I wish they had more cartoons like The Flintstones on now! What was your favorite cartoon when you were a child?