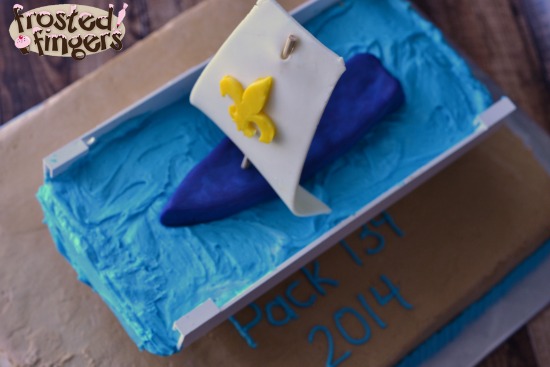 Two weekends ago our Cub Scout Pack had it's Blue and Gold Ceremony. We always hold a cake auction as well. I try to keep my cakes Cub Scout themed. Year one I made a camping cake and last year I made a Pinewood Derby Cake. This year I was having a hard time coming up with a cake and Buddy suggested a Rain Gutter Regatta Cake. I searched Google for some ideas and couldn't find any! There were only a couple of raingutter regatta themed cakes; one being cupcakes. I had to figure out what I was going to do to make mine stand out. I did some research on Menard's to figure out how to incorporate a real gutter into the cake. I ended up getting a Y joint piece. For the Raingutter Regatta boat and sail I used Wilton's Shape N Amaze edible decorating dough. I ended up using almost three full boxes of cake mix and a double batch of homemade buttercream frosting to make this cake. It took about 4 hours from start to finish, I think. It's hard with starts and stops to feed a baby to know what it really took!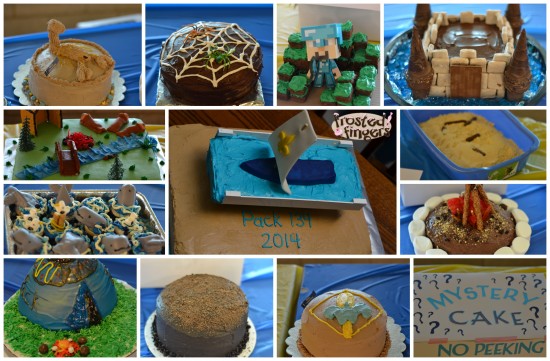 You can see we had some really talented bakers this year for our Blue and Gold cake auction. Can you guess which cake got the highest bid? Wasn't mine! 🙁 Surprisingly also wasn't Minecraft, although it did pretty well. I believe second place was the really cool campfire cake. First place, though, went to the Mystery Cake. There was no peeking allowed before the cake was won. It turned out just to be a plain cake with M&Ms as decoration, but how cleaver was that for a cake idea?

I had to try my hand at engraving for an award for our Blue and Gold because I couldn't find anyone that would engrave a bugle locally. I don't think I did too horribly! I put a mustache over the last name. 😉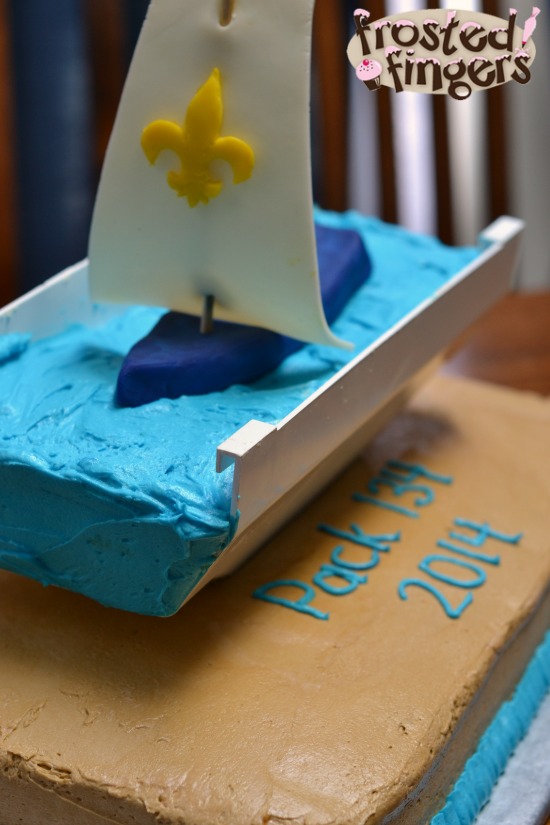 If you have a Cub Scout, have you ever made a Blue and Gold cake? What did you think of my Rain Gutter Regatta Cake? Everything is edible except for the gutter and the mast! Can you believe that we ended up bidding for and winning our own cake? Yes, that's right. We paid for it twice!