Compensation was provided by Houlihan's via MomTrends. The opinions expressed herein are those of the author and are not indicative of the opinions of Houlihan's or Momtrends.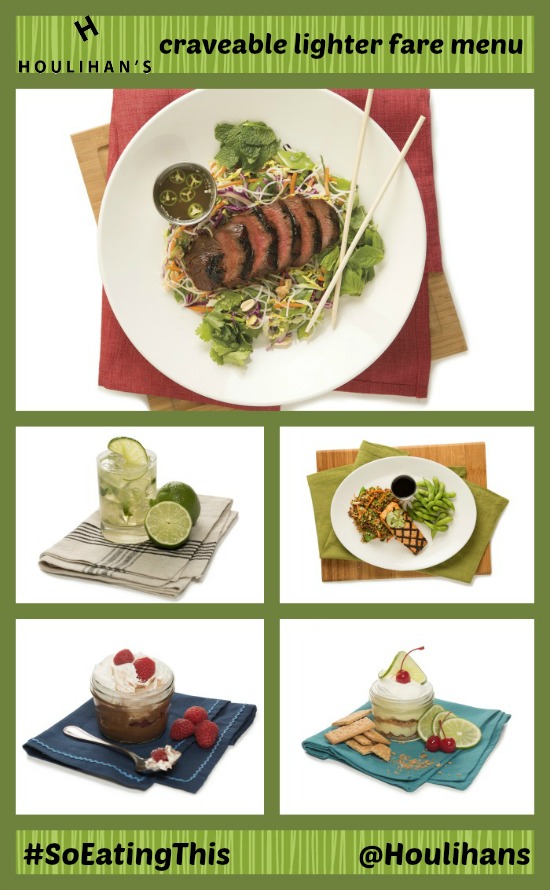 Tuesday night my husband, BabyQ, and I had a date night at Houlihan's. Originally the entire family was going to go and then I got the idea to have a date night. It's our first since Q arrived. (I know she was with us, but she's a lot easier to manage than 4 altogether at a restaurant.) It was nice to have a quiet dinner with my husband without a lot of distractions.
The first thing I checked out was the new Houlihan's Specials Menu with lighter menu items. I really wanted to try the X-Rated Moscato Martini but figured that wouldn't be a good idea with a breastfed baby. I did decide that I would try the Key Lime Mousse at the end of the night.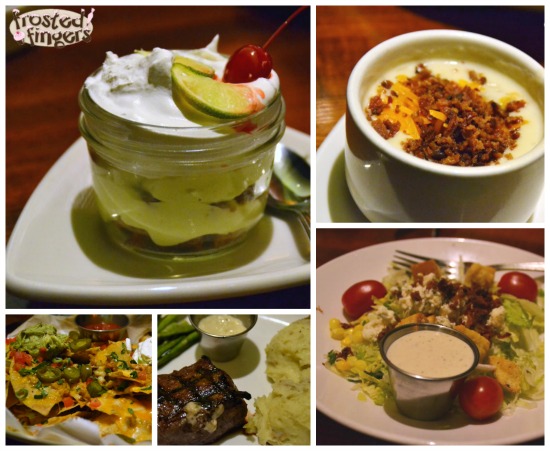 My husband and I decided we were going to start our meal off with the Chipotle Chicken Nachos. Unfortunately they came out at the same time as our soup and salad, so it was hard to enjoy them by themselves. I would have liked more chicken on the nachos, but the flavor was really good! They weren't overly spicy as I was afraid they may be. We debated bringing home our leftovers but figured they'd never be as good reheated. We both decided on the USDA Prime Top Sirloin for our main course. I was having a hard time choosing between the baked potato soup and the french onion soup. I thought I talked my husband into getting the french onion soup so I could try it, but he went with the salad instead. As I said, he got the salad and his only complaint was that they used shredded lettuce. He said it tasted nice and fresh, but visually made him think of Taco Bell. We both got the Honest Gold Mashed Potatoes as a side, which I REALLY liked and he got the asparagus and I got the green beans. For some reason my beans tasted off, but I didn't mention it to the waitress. The steaks were done just right. For dessert I did try that Key Lime Mousse. I liked how light the key lime was; it wasn't too tart. My biggest complaint was that they used Cool Whip for the topping (or it sure tasted like eit!) My husband got the creme brulee, which is normally my favorite. He let me try a bite and I was surprised to find it cold and the top layer wasn't as crispy as you would expect. It was like it was made earlier and then put in the fridge instead of being fresh.
I know I'm sounding super picky here, but I just wanted to give you our full, honest thoughts. Overall we enjoyed our meal and there was nothing to make us not want to come back. The atmosphere was very nice and while we didn't bring all the kids, other families did. I kept meaning to ask to see a kids' menu so I could tell you what they had for options and prices, but I forgot. We enjoyed our evening at Houlihan's. Another thing that's good to know: 1/2 price bottles of wine on Tuesday! If I didn't have to nurse BabyQ, I'd have taken advantage of that! Also, if you'd like a free appetizer, make sure to sign up for their birthday club before you go. They will email you a coupon for a free appetizer. I didn't get mine until the next day, though, so that's why I said for you to sign up before you go. How would you like to win a $50 gift card to go try out Houlihan's for yourself?