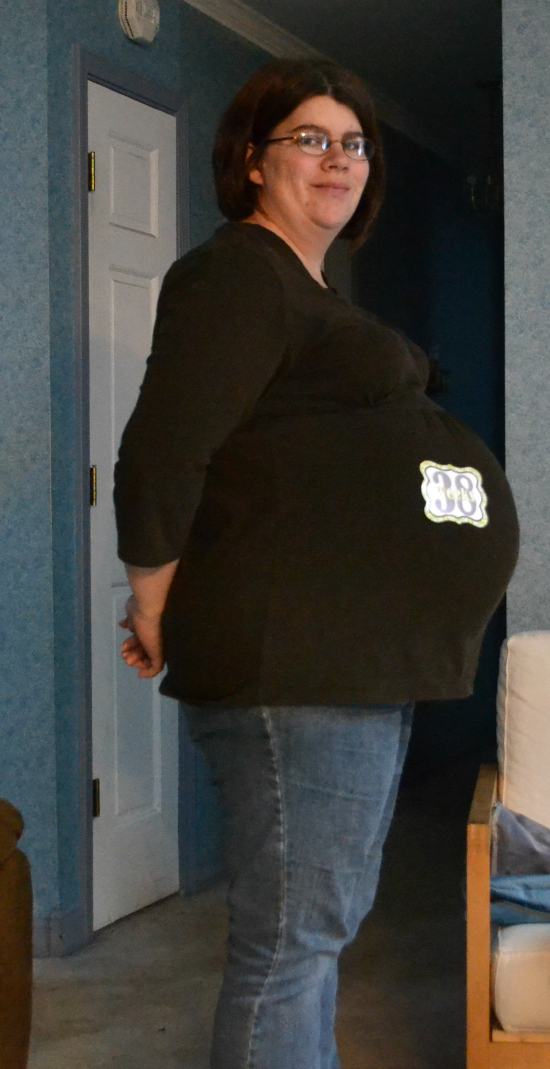 Well, yesterday I hit 38 weeks. After the weekend I had, I really wished I didn't hit 38 weeks! Last Thursday I went in for my weekly doctor appointment and they found protein in my urine. They sent me for blood work and a 24 hour urine test. (That means collecting your urine in a bottle for 24 hours… SO MUCH FUN!) Saturday morning started off with us dropping off the urine at the lab and then running errands. As the morning progressed, a headache came on. As the day progressed it got worse and was accompanied by blurry vision. I laid down for two hours hoping it would all go away but it didn't so I called into the office because they had told me if I had a headache to call in. The midwife and I talked back and forth for a little over an hour and she finally decided she wanted me to go into the hospital for monitoring. I got to the hospital at 6pm and was out of there by 10pm. They ran blood and urine tests and had me hooked up to the fetal monitor the whole time. Baby girl, of course, would not stay still for the monitor but she looked great and I was having contractions, but nothing that was consistent or strong enough to do anything. The blood work came back with elevated blood sugar and the urine had a small amount of protein but not enough to make them want to take baby out early. They made an appointment for me with the doctor for Monday morning.
Monday I got there and STILL felt the same way: headache and blurry vision. They got the 24 hour urine test back and it was fine. The urine taken in the office that day showed an excess amount of sugar in it. So now they believe that I am having blood sugar spikes that are keeping me in a constant migraine state. They want me to take Benedryl and eat some protein every 2 hours. So far I'm not feeling ANY better. It seems that all I can do, though, is deal with it. My c-section is scheduled for the 24th which is 9 days away. I'm just hoping for relief when baby comes. I had an ultrasound on Monday as well. She looks great. They said she's approximately 7 pounds and 10 ounces so far. They said she seems pretty long and that her legs were in the 90th percentile. She was practicing her breathing and sticking out her tongue at us on the ultrasound. The doctor said she doesn't have the growth pattern of a baby that has been subjected to long term high blood sugar, so that's a good thing.
Believe me, I'm glad they're not finding anything wrong with baby girl, I'm just over feeling the way I do. 9 days, I can do this!