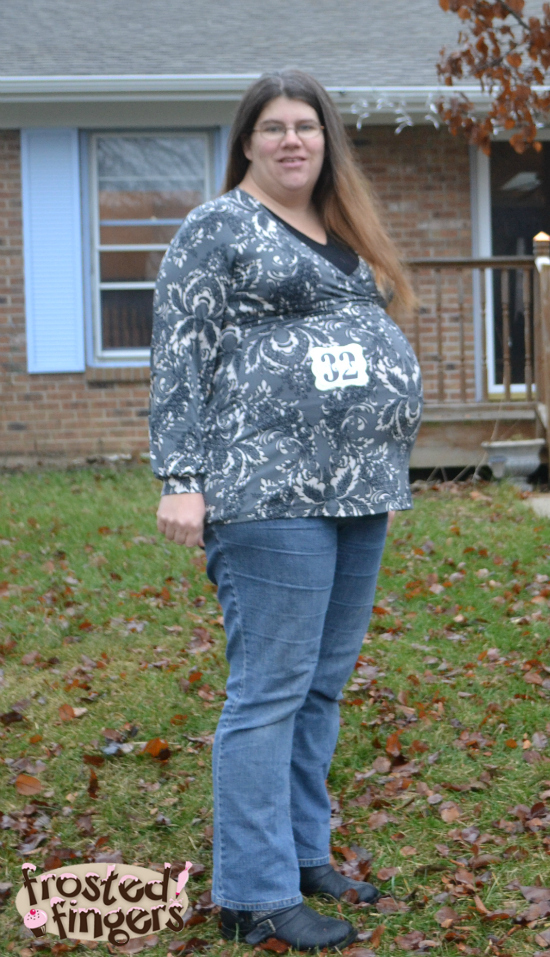 Now that Thanksgiving is over, the time is FLYING! I got a call today from the OB office telling me my c-section is scheduled. ACK It's becoming real! This week has been all about getting ready for Christmas and her. We got the girls' room set up finally. The crib is up and mattress is in! (By the way, I'm giving away an organic Naturepedic baby crib mattress. Go enter!) I ordered her car seat and it should be here tomorrow. I'm so excited to have a girly baby car seat! I want to start washing her clothes today so I can put them away and know exactly where we stand on what we need. I know I still need a bathtub, but I think as far as gear goes now, we are set. I THINK we have a name but I'm still not sharing because I've been really flaky with what to call this one. The only name that I've REALLY stuck on is Quinn and I'm the only one that likes that in my family.
Ignore the goofy face in my picture. I think my son caught me mid-sentence. We need to teach our kids how to use cameras! 🙂 I tried having him take it with my cell phone but every picture was blurry. I should do an outtakes montage. 🙂
Everything seems to be going well with the pregnancy. I have my Rhogam shot on Friday and another ultrasound next week to check size because the midwife said she may be measuring big. I also start weekly non-stress tests next week. (exciting… ugh) Besides not sleeping and aches and pains, I'm doing ok. Just excited to hold my baby girl!