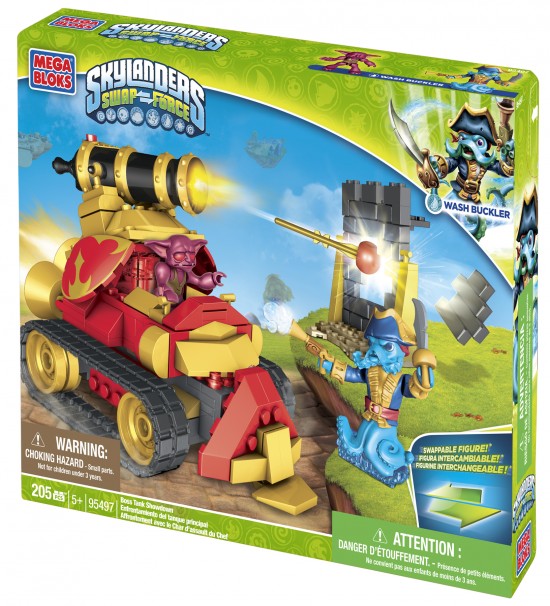 One of the things my boys are hoping to get for Christmas this year is Skylanders Swap Force. They also LOVE building bricks, so when I was asked if I'd like to do a review and giveaway of Mega Bloks Skylanders Swap Force™ Boss Tank Showdown I jumped on it! All opinions are my own. They literally ARE all my own, because the boys don't even know we have this yet. Prizing and samples are courtesy of Mega Bloks. With permission, I put the toy together myself and am not letting the boys see it til Christmas.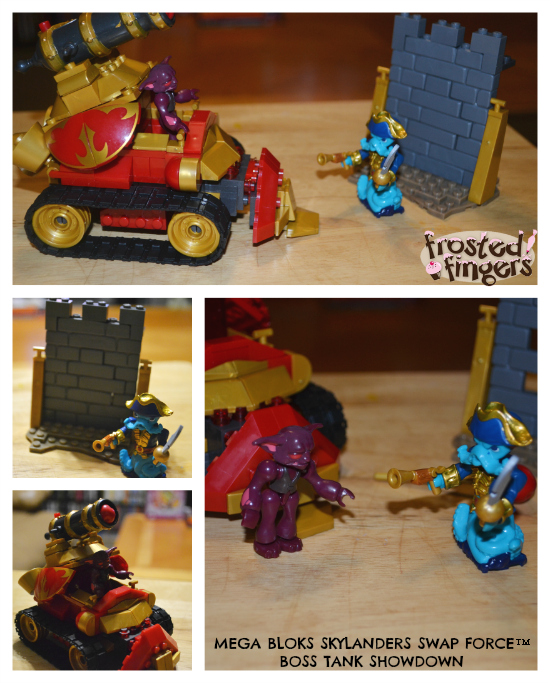 It took me about an hour to put together the Mega Bloks Skylanders Swap Force™ Boss Tank Showdown by myself. I bet my 8 year old would have been faster at it. (Of course he wouldn't have been mulit-tasking with the laptop and watching Hart of Dixie at the same time.) The directions were simple to follow and easy to read. I HATE knock off kits that you can't tell what brick goes where. All of the bricks snapped together nicely, too. Unfortunately I was missing one tiny piece that looks like a wrench and holds on the cannon. I'm not sure if it somehow went flying when I opened one of the bags or if it just wasn't in there. I searched the family room and didn't see it, but it's color is pretty darn close to my carpet color and it was late at night.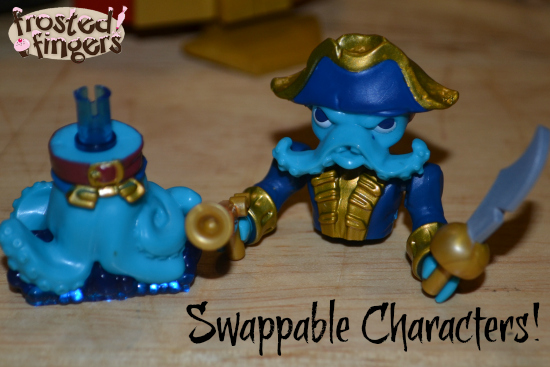 One of the really cool things about the Mega Bloks Skylanders Swap Force™ series is that you can swap the main characters body parts just like the video game! I need to pick up one more set for Christmas so the boys can swap their characters from their sets. I'm giving Little Man this set since it's already put together and Buddy's favorite part about building bricks is the building part. I would have taken the fun right out of it for him!
About the Boss Tank Showdown

Evil Glumshanks bars the way to Kaos in his massive Boss Tank! Wash Buckler must try to take him down without losing a leg in the Boss Tank Showdown by Mega Bloks Skylanders SWAP Force™. Wash Buckler must use all of his Water powers and secret swapping ability to defeat Glumshanks and his tank. Duck Glumshanks' cannon attack and watch it blast through the breakthrough wall, then use Wash Buckler's mix-and-match capability to combine with any other Skylanders SWAP Force™ character and smash Glumshanks' Boss Tank. Defeat Glumshanks and send a message to Kaos – the Skylanders won't rest until the Darkness is finally defeated once and for all!

Ideal for kids 5 and up.

Features:

•      Buildable Boss Tank with working launcher

•      Includes Wash Buckler (Water Character) with mix and match capability –swap him with other Mega Bloks Skylanders SWAP Force™ figures and turn him into a different character every time!

•      Evil Glumshanks character in battle garb

•      Buildable wall that "breaks" into pieces when activated, simulating tank cannon damage

•      Combines with other Mega Bloks Skylanders SWAP Force™ playsets to build your adventure!

Skylanders SWAP Force™ ©2013, MEGA Brands Inc. ©2013 Activision Publishing, Inc. All Rights Reserved.
a Rafflecopter giveaway

You can find the Skylanders Swap Force™  Boss Tank Showdown and other sets at Target. I'm also giving away one set below. Just fill out the Rafflecopter form to win.
Giveaway is open to the continental USA, must be 18 or older to win, and ends on December 6 at 12:00 am EST. Winner will be selected at random from all eligible entries and will be contacted by email. Winner will have 24 hrs to respond. Winner may only win one prize pack, if you win on another site, a new winner will be drawn. Please add paula@frostedfingers.com to your trusted email filter. If original winner does not claim their prize within 24 hrs, it is forfeit and a new winner will be selected promptly.
No purchase necessary to enter or win. Odds of winning are not increased by a purchase.