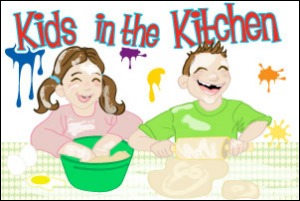 Last week I was having a HEXBUG party and needed major help getting ready because we had two hours to get things set up and it was just me and the three kids. It took one hour just to get the HEXBUG sets put up, so we lost an hour of kitchen time. I quickly put kids to different tasks. Buddy had to make sure everything was picked up and vacuumed and I set Little Man to help me in the kitchen. His job was to make grape caterpillars. Of course once the other kids saw what he was doing, they joined in as well. I only have a picture of Little Man doing his job, though, because I was too busy trying to cook to pull out the phone to snap another pic.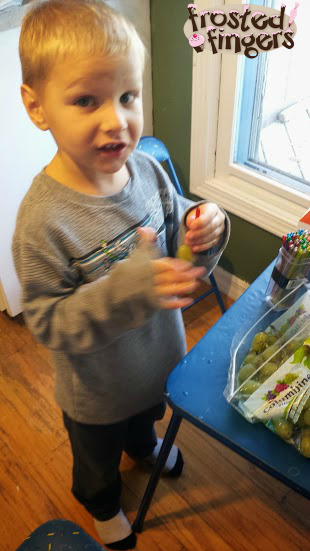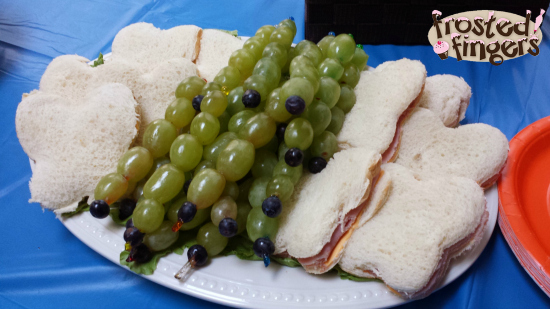 The party turned out well and all the food was a hit. You can see the link above if you want to find out more about it.

Did you have fun in the "kitchen" this week?  Did you try a new food or a new kid friendly restaurant?  Did your little ones use their snacks to count to 10?  We invite you to share your experiences, photos, stories or recipes that include your #kidsinthekitchen!
Come join me and my co-hosts, Melinda at Look What Mom Found, Sara at Sensibly Sara,  Lisa of HooplaPaloooza and Sarah of Play2LearnWithSarah, each week by linking up a post, new or old, that features the theme Kids in the Kitchen.  It doesn't matter what you are doing as long as you are doing it together, enjoying it and learning something along the way.
preparing healthy snacks
counting skills with m&ms
pouring from measuring cups
discovering a local restaurant that your kids love
creating new family friendly recipes
Don't have a blog?  That's ok!  Just share an Instagram photo or Facebook update.