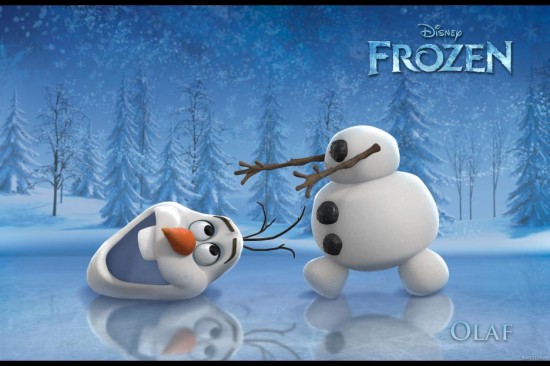 My kids have been dying to see Frozen since they started showing the previews in the movie theaters. I was given tickets by Disney to take my kids to a screening in downtown Chicago. All opinions are my own. When I saw the previews I laughed and couldn't wait to see the movie myself. I DID expect the movie to be about a snowman and a reindeer since that's what the previews were! The snowman and reindeer were just secondary characters. Here's the IMDB description of the movie:
Fearless optimist Anna teams up with Kristoff in an epic journey, encountering Everest-like conditions, and a hilarious snowman named Olaf in a race to find Anna's sister Elsa, whose icy powers have trapped the kingdom in eternal winter.
That is a REALLY simple explanation of the movie. There are two sisters: Elsa and Anna. Elsa has special powers that she was born with that she can make things frozen. An accident happens when the girls are younger and Elsa must hide her powers from everyone. When she becomes of age to become queen she gets upset and loses control of her powers leaving their kingdom Frozen and she runs away. Anna goes on  a journey to try to get her sister to thaw the kingdom out again. It's a love story as well and tons of great laughing points throughout the movie. All three kids loved it, which is really saying something if Little Man says he likes a movie. It did have a few scary parts but he made them through them ok and still came out saying he liked it!
Before seeing the movie, you get to see a Mickey Mouse short called Get a Horse! I think it's the best use of 3d animation in a LONG time. Things flying out of the screen and it looks like things are within reach. Kids were screeching and laughing and having a great time with this short. It felt like it should be in a Disney park as 4d animation. I kept expecting to get wet!
I definitely recommend seeing Frozen for both boys and girls. My kids are boy-8, girl-6, boy-4 and they all were asking to buy the DVD as soon as we left the movie. Maybe a birthday present in May since it's JUST coming to the theaters for Thanksgiving. Do you plan on taking your kids to see Frozen?