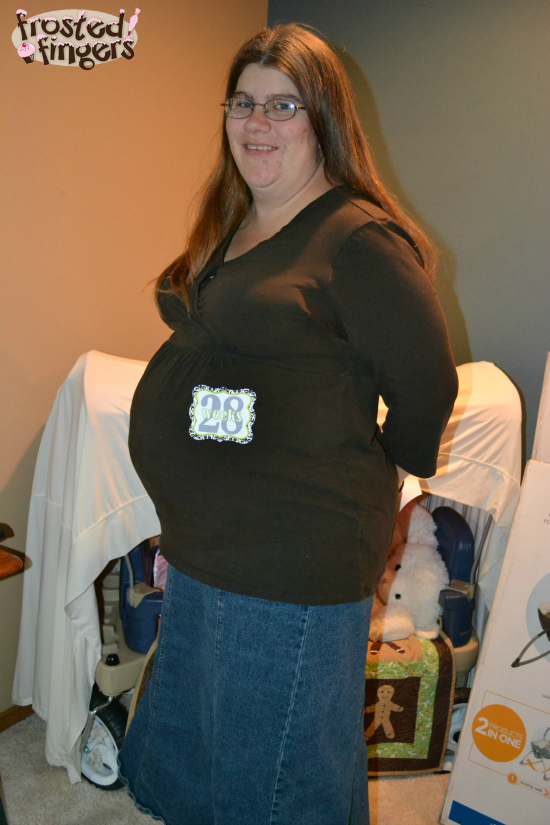 I haven't updated since #24Weeks. Overall I'm doing ok. Baby girl has some major karate chops going on in there! I've been dealing with some weird shoulder pain and I'm not sure if it's from the way I sleep or if I did something. It's been going on for about two weeks now and some days I just want to cry all day. I don't want to jinx myself, but I do think that it's getting better. Unfortunately, the hip problem that I have with every pregnancy is starting. When I get out of bed or up off a chair, I can't even move my left leg for a few steps. Once I've forced my body about 10 steps then I can walk normally. I'm really thinking about looking for a chiropractor. I've never been to one, have you?
I've started my Holiday Baby Gift Guide and it's really starting to get me excited that baby is coming and FAST. I should be holding her in my arms 11 weeks from today. My goal this next week is to get the girls' room put together. I haven't had the time to get in there and do a proper cleaning out and move furniture. We're getting rid of Monkey's desk and book shelf. A friend of ours gave us a loft bed. I want to see if we can put it up without the desk underneath so we can put the crib under there, but I don't know how tall it stands yet. If not, at least Monkey will still have a place for her computer. I'm also on the lookout for a tall dresser. We currently have a wide dresser in the room (which the drawers are falling apart) and it won't fit with a crib and bed.
It's also time to find me some slip on shoes that will work for the winter. It's getting a little more difficult to tie shoes (or even get them on my feet!) I tried on a pair at Meijer and they were way too slim. I know my feet will swell so I need a wide width shoe. Well, it's time for me to get my body up and moving for the day, I have people coming over in 3.5 hours!